You can use Microsoft Teams and Stream to make screencast recordings using video, audio and screen, or just audio and screen, as required. Please refer to What Technologies Should I Use? to plan how to organise your live teaching and recorded teaching throughout the term.
Live online interactive sessions with students should only be recorded in a limited number of cicumstances. Read Recording live sessions: What do I need to know?
If you are using the web app you may not be able to share your screen.  
Make sure you are using the desktop app for Teams.
To create a recording
Open Teams
Go to your Calendar in Teams:

Click on the Meet now button:

Only use 'Meet Now' in your personal calendar and not within a Team to make screencast lecture content. Starting a recording in a Team adds it to the Team group and appears in anything this Team is linked to on MS Stream. You can always add permissions afterwards.
Join the meeting by clicking on Join now (if using the web app you may be asked to allow your browser to use your camera and microphone)

Turn the camera on if you want to record yourself:

Make sure the microphone is on to record your voice:

When you move your cursor over the screen, a meeting menu bar will appear at the bottom of the screen:
Cick the More actions button (looks like three dots).
From the drop-down menu, select Start recording.

A Privacy Policy notice will display.

Share your PowerPoint slides, documents etc. in the Teams meeting using the Share button.

When you use share you can

Share your desktop – anything that shows on your desktop will appear in the recording.
Share a window – simply select the one you want to display from the windows tiled along the bottom of your screen.
Share a PowerPoint presentation – your most recent files will be tiled at the bottom of the screen or you can click on 'Browse' to locate the file.
Share Microsoft Whiteboard at the bottom of the screen – you can use the whiteboard tools to draw on the screen and your actions will be recorded.

When you have finished your recording, click on the More actions button (looks like three dots) again.
Select Stop recording.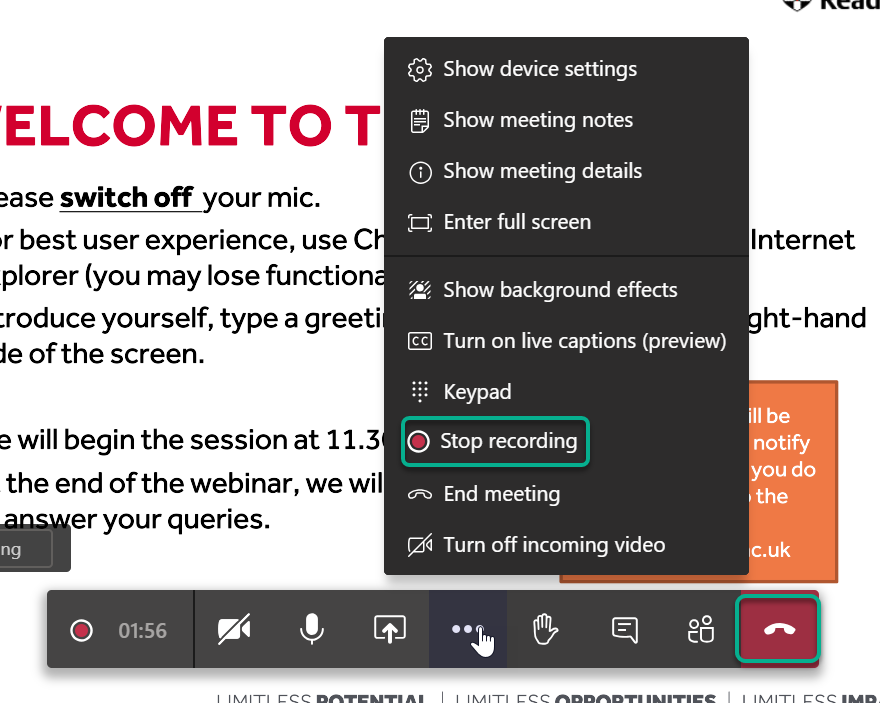 The recording will now end and will be saved in Microsoft Stream.
You can now leave the meeting by hanging up the phone – click on the Red phone icon.
You will receive an email when the content is ready to stream.
Click on the 'publish, view, edit or share' option to be taken to Stream, where you can edit the recording properties, and edit who it is shared with.
MS TEAMS: SHARE A RECORDING USING MS STREAM
Record a live Team meeting
You can also record a live meeting which is being held in Teams. When in the Teams meeting, follow the same steps shown above to start recording.
Trouble-shooting
Record Button not available
Some users have identified that their button is 'greyed out' and they cannot switch on recording. If this is the case for you, please submit a ticket using the  IT Self Service Portal. This has been seen when a user joined as a 'Guest' rather than with their Office 365 account.