Important:
Stream (Classic) has been replaced with Stream (on SharePoint). To find out more about migration from Stream Classic to Stream on SharePoint please visit DTS' page Stream on SharePoint.

Stream is no  longer used for storing Teaching and Learning video content. T&L video content for 2022/23 onwards should be stored in Yuja.

Stream Groups will not be created for Blackboard courses in 2022/23, and Stream should not be used for new Teaching and Learning content after 10th July 2022.

For updates check the TEL website.
To allow users to watch your video accessibly, you can edit the transcript. Stream creates automatic captions for your video. Check the automatically created text and update as appropriate.
---
Using the web-based editor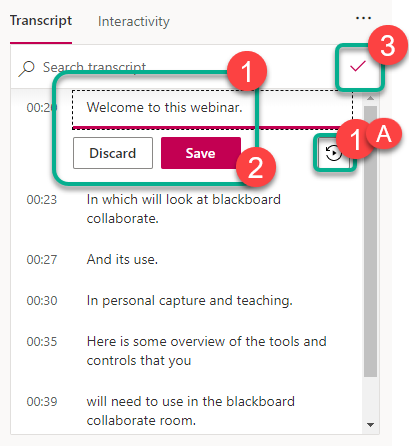 After selecting the edit/done editing button (3) edit the text. OR 1a watch the clip again to catch the wording
Select to Save the section
Once you have edited all sections click the done editing button.
Downloading the transcript
You can download the entire transcript as a .vtt file, which can be opened in text editors and edited before being uploaded again.
When saving your .vtt file in Notepad or Notepad++, you may need to select All Files as the filetype, to retain the .vtt extension.

Uploading an edited transcript
Upload an edited transcript via the Update Video details section. You must untick "Autogenerate captions" to be able to upload your own transcript file.
Creating an alternative format from the transcript file
At times you may want to get a copy of a video's transcript without any time codes, metadata, and extra lines. The Stream transcript VTT file cleaner will extract the transcript text from downloaded VTT files generated by Microsoft Stream, allowing you to copy and paste the text elsewhere.
Be aware that the output will be entirely unformatted and will need to undergo significant editing to create an alternative format of an appropriate standard.
Please note:
  If you have edited Stream captions before downloading the caption file, the file extension will be missing from the file name. Therefore, when selecting 'Choose File' for the
St
r
eam transcript VTT file cleane
r
, check that 'All file types' are displayed in the system Finder (Mac users need to select Options > All file types).
---
Page last updated on August 10, 2022 by Asif Muhammad
---