What are Blogs and Journals?
A Blog is a simple web-publishing tool that allows users to make entries to a web page that are displayed in date order. These entries, known as posts, are made up of textual content with weblinks, and they can combine pictures, video and audio. You can create blogs inside a Blackboard course
for the whole course
for each student
for specific course Groups.
Blackboard Blogs are visible to all course users.
A Blackboard Journal is a blog which can only be viewed by the individual author, and staff on the course.
See more on the uses of blogs and journals in teaching and learning on the TEL website:
How do I add a Blog or a Journal to my courses?
By default, a course does not have any blogs or journals. As instructor you need to create the blogs that you would like to use on your course.
There are three different types of Blog and one type of Journal:
Course Blogs
i.e. a single Blog for the course.
All enrolled users are able to post Blog Entries. All enrolled users can also post Comments to Blog entries.
Individual Blogs
i.e. a blog for each student on the course.
Only the owner of the Blog is able to post Blog Entries. All other users enrolled in the Course are able to view and add Comments.
Group Blogs
i.e. a blog created within one or more Groups on the course.
If the instructor enables the Blog tool for a Group, all Group members can post entries to that Blog. Any course member can view and comment on other Groups' Blog posts.
Journals
These are Individual Blogs which are private to each student. They can only be viewed and commented on by the student and the instructors of the course.
See the Journals section below for how to set up a Blackboard Journal.
To create a Course Blog or an Individual Blog
Important - Assessed Blogs and Journals
If you are using a course or individual Blog for summative assessment, the EMA Integration will create the Blog or Journal for you. Please read the relevant article before proceeding: 
* EMA Integration: Blogs 
* EMA Integration: Journals
 Click on Control Panel > Course Tools > Blogs and then Create Blog.

On the next screen, enter a name for the blog, and any instructions for your students.

Under Blog Participation you need to choose
Individual to All Students (i.e. a separate blog for each student)
or Course (i.e. one blog for the whole course).

Other options should be self-explanatory but for further help click on More Help at the top of the page.
Note that you can choose to mark the Blog, if appropriate.

If you tick 'Mark' additional options appear.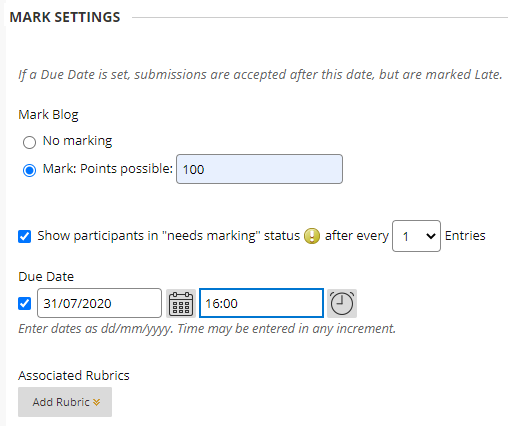 Creating a Group Blog
If you have Groups set up on your course, you can create a blog for use by the Group members.
You can specify the tools you want to be available when setting up a Group.

If you have already set up your Groups but did not enable Blogs, go to Control Panel > Users and Groups > Groups
Click on the editing chevrons next to the Group name, and choose Edit Group.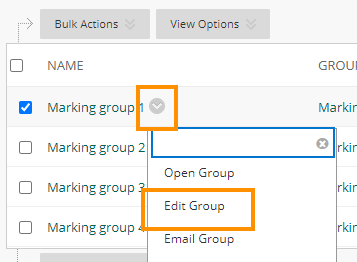 Scroll down to Section 2 Tool Availability, tick the box next to Blogs and then Submit.
For more on managing Groups see Blackboard: Groups – Getting Started
Creating a Journal
A Journal is a tool for self-reflection. By default only the individual student and course Instructors are able to view and comment on Journal entries (although it is also possible for an Instructor to make a Journal visible to all enrolled users on a course).
Creating a Journal is very similar to the way you create a blog. Go to Control Panel > Course Tools > Journals then Create Journal.

Enter a name and instructions, and choose the appropriate settings.
When entering instructions, you may wish to specify how often students should post to the Journal (e.g. at least once a week) and the format which entries should take (e.g. following the What? So What? Now What? model).
Viewing and editing Blog and Journal settings
At any time if you go to Control Panel > Course Tools > Blogs you will see a list of all the blogs which exist on the course. To enter a blog, simply click on its name.
To edit a blog's settings, click the chevrons to the right of the name and choose Edit.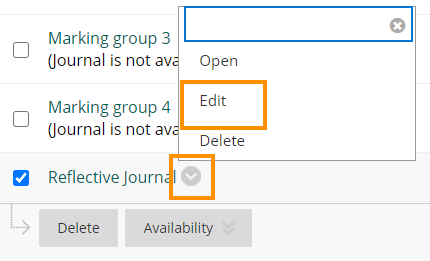 Making your Blog or Journal accessible to students
Group Blogs
If you are using Group Blogs, then students will be able to access these from the My Groups panel at the bottom of the main course menu.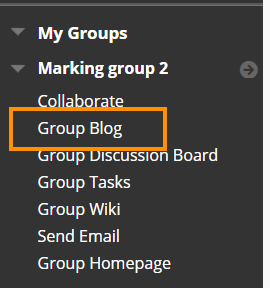 Course or Individual Blogs and Journals
To enable students to access a course or individual blog or journal, you could add a link to the course menu. But a better way is to link to the item from within a content area.
Add a link to a specific Blog or Journal through a course content area
You can create a link to a specific blog or journal from any content area.
To do this, go into the content area and select Tools > Blogs or Tools > Journals.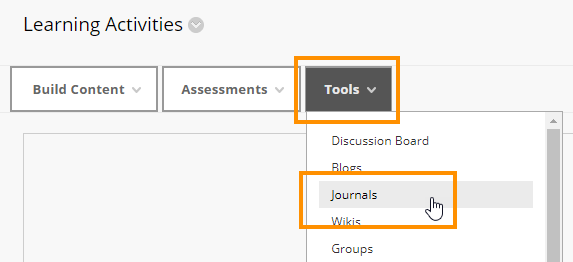 You can then
link to a list of all Blogs or Journals
link to a specific Blog or Journal
create a new Blog or Journal and link to it.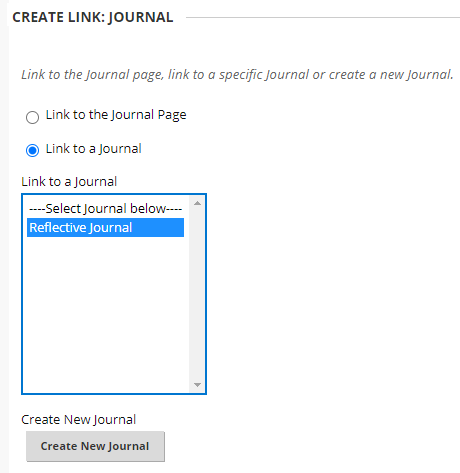 When you create links in this way, students will see them as shown.

Add a link to the course menu
With Edit Mode turned ON, click on the + sign at the top of the menu and choose Tool Link.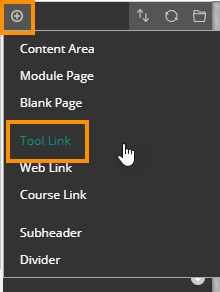 Enter a name for the new menu item and from the 'Type' drop-down list select Blogs or Journals.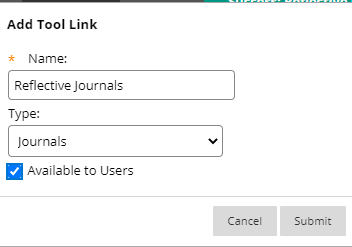 Remember to tick the box next to 'Available to users', otherwise students will not be able to see the link.
The new link appears at the bottom of your menu. You can drag it to any position on the menu by using the up-down arrow icon to the left of the button.
As an instructor, if you click on the menu item, it will display a list of all of the Wikis which exist within the course.
Students clicking on the link will see all wikis to which they have access.
How do students post to a Blog or Journal?
 When students go into a Blog or Journal they see a Create Blog Entry or Create Journal Entry button.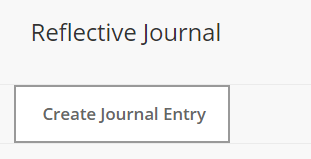 Once they click on that, they see the standard Blackboard editing toolbar, so are able to format their text, and upload images and other media to display within their entries.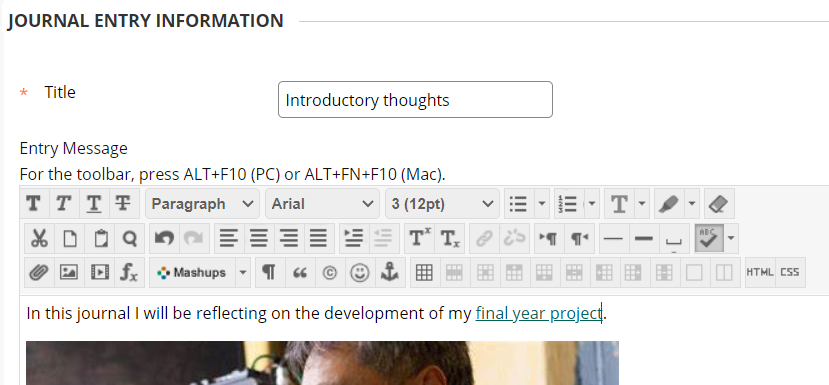 For further information please see the Blackboard Help site