What are student response apps?
Quizzing/polling apps may be referred to as Student Response, Audience Response or Classroom Response Systems.
They can help you to:
check knowledge retention, by testing students on topics live in the moment.
ascertain student feelings and opinions, to create discussion and debate
motivate students/groups to participate, particularly where scoring or leader boards are used
They are particularly helpful in delivering team-based learning. You may wish to translate a team-based learning activity into a digital quiz or poll to help students collaborate more effectively (i.e. so everyone can see the activity on their own device, as an alternative to paper copies). 
What

'free/freemium' student response apps can I use?

'Free/freemium' use of the following 'student response' apps has been approved by the university Design Authority Group (DAG).

Note: TEL cannot provide technical support for the use of free/freemium technologies, and users must be aware of the risks when using unsupported technologies with their students. Please see considerations when using  free apps before signing up to use an online platform.
What University technologies can I use to for collecting live student responses?
Webinar polling
When conducting live interactive sessions online, you can make use of inbuilt Collaborate polls and Teams polls. However, these polling tools may be somewhat limited compared to 'student response apps' (for example, if requiring question types other than multiple choice).
Microsoft Forms
Microsoft Forms can be used to collect live student responses to a variety of question types. If using the 'quiz' mode, you can 'post scores' to display the total points scored by each submission. Students receive a graded response when submitting a quiz; see check and share results.  When designing MS Forms, you can use branching to direct students to different questions, depending on their answer selections.  
Microsoft Forms can be accessed via browser or mobile view (below):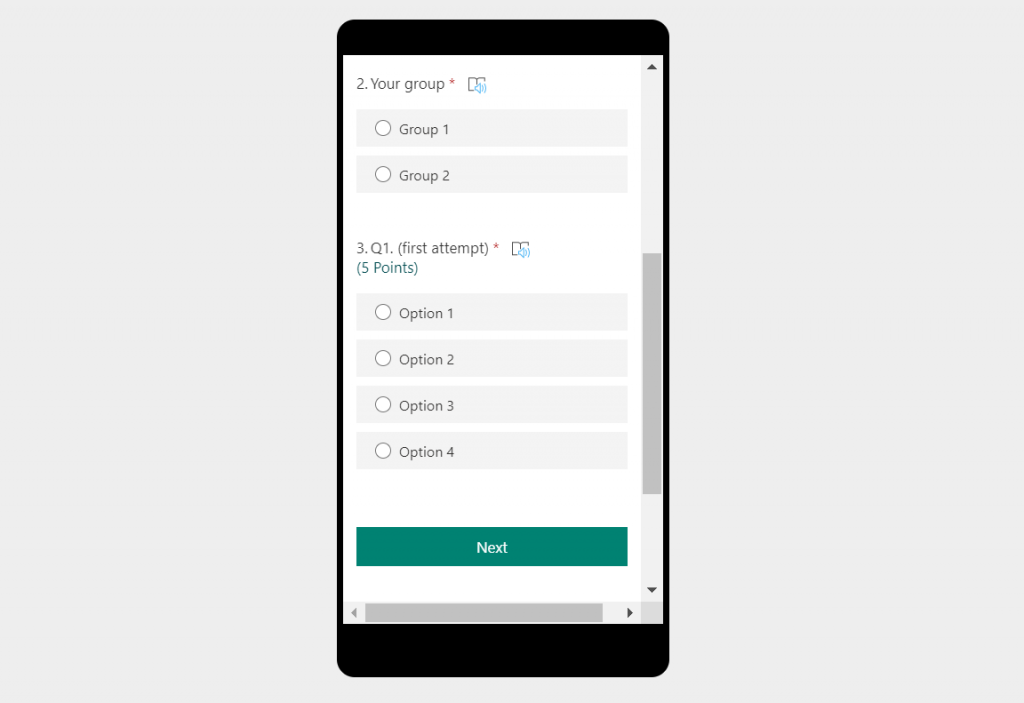 Blackboard Tests
Blackboard Tests can be used to collect student responses to a variety of question types. All answers can be recorded in Blackboard grade centre, and a smart view can be created to quickly display results. However, no incremental reveal only 'submit all'.
Blackboard Tests can be accessed via browser or mobile view (enter bb.reading.ac.uk in device browser or install the Blackboard student app). Some question types do not function within the app version (if they are required, you can direct students to use the browser view). See considerations when using tests and surveys in the Blackboard app. Screenshot from Blackboard app below: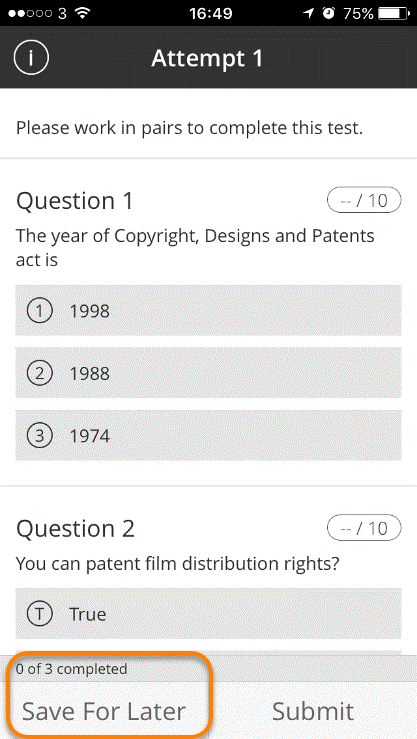 Please note: if student clicks 'Save for later' then the Test will remain unmarked.