"Why does nothing ever seem to get done about climate change?" is a question that PhD student Heather Plumpton has been battling with for years.
Now an Interdisciplinary Research Fellow at the Walker Institute, Heather told CONNECTED about how she learnt to make a difference on climate issues through science and influencing policy.
"As an environmental science PhD student, I had always been passionate about climate change and the need for science to inform climate policy. I wanted to be able to use my PhD experience to make a positive difference in the world but was struggling to work out how to achieve it.
"What I needed was to learn the skills that would enable me to build a bridge from the academic science to the policy-making process. So when I heard about the opportunity for PhD students to be trained in 'evidence synthesis for decision makers' and to work on a case study in a developing country through the Climate Services Academy Training (CSAT) programme at the Walker Institute, I jumped at the chance."
An action-packed programme
"In February 2018, I took a month out of the final year of my PhD and left the laboratory to take part in the CSAT programme. The aim of the programme was to train PhD students to bring together information from a range of disciplines, including climate, ecology, livelihoods, law and politics, and use this evidence to inform policy and influence decision makers.
"The first two weeks were a whirlwind tour of the essential topics we needed to understand to work in evidence synthesis and climate change, from disaster risk management to livelihoods analysis. We built on this learning through a week of 'scenario days'; applying our new knowledge to real-life climate change issues in a developing country.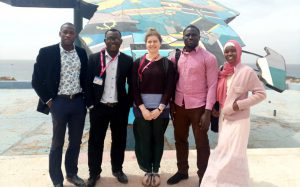 "With my head full of new knowledge and ideas, I arrived in Senegal for the final two weeks of the programme to conduct some real evidence synthesis on the ground. The case study I worked on was looking at the impacts of a drought that occurred in Senegal in 2014. I interviewed 22 stakeholders from government, think tanks, charities and research institutes, and presented my findings in a ministerial briefing and impact report."
Learning how to make a difference
"Coming from a PhD looking at the impacts of drought on tropical forests, I thought working on a drought case study for CSAT would feel familiar. But by the end of the four weeks, I had a whole new perspective on what drought really means for people's lives and livelihoods and the complex systems and governance frameworks that need to be in place to respond to them.
"Furthermore, the experience has changed the way I think about conducting research in the future. Designing a research programme based on my perception of what is needed to tackle climate change and hoping the decision makers pick up the results isn't going to cut it.
"To achieve real change in policy and people's lives, I need to ask those dealing with the issues on the ground (i.e. the stakeholders: the farmers, the conservation practitioners, the policy makers) what questions they need answering.

"Designing the research from this starting point, answering their questions and meeting their needs, enables those stakeholders to take real action on climate change."
Shaping my career
"My experience on the CSAT programme opened opportunities for me to work at the interface between science and policy.
"A few months after finishing the CSAT I was awarded a Fellowship by the British Ecological Society (BES) to work at the Parliamentary Office of Science and Technology (POST) for three months, writing a briefing for MPs and members of the House of Lords on Climate Change and Agriculture.
"My experience of synthesising evidence across multiple disciplines, engaging stakeholders and writing for policy audiences significantly helped my application and was directly useful during the Fellowship.
"I also continued working with the Walker Institute, developing my skills in evidence synthesis and communication for policy stakeholders by working on climate risk analysis for the UK Department for International Development (DfID).
"I enjoyed these experiences so much that I am now working as an Interdisciplinary Research Fellow at the Walker Institute, continuing my work on climate risk analysis and looking at the resilience of tropical forest restoration projects to climate impacts."
Find out more about The Walker Institute, or follow Heather on Twitter @heatherplumpton.