The majority of Reading alumni may have chosen to exit formal education having graduated with a bachelor's degree, a qualification which provides the knowledge and experience to go on to excel in the world of work.
However, as individuals increasingly strive to stand-out from their peers in order to get-ahead in their academic or professional careers, we are seeing increasing levels of students seeking to attain a master's qualification.
Being inspired by alumni
Here at Reading, we welcome students from all over the world, and have a truly global graduate network spanning more than 150 countries worldwide. Perhaps as testament to that, we are finding that time and again, the advice of our alumni has helped prospective students choose to study postgraduate courses in Reading.
That was the case for Henry Bortey Otchwemah; who first became interested in studying for his master's at the University of Reading following conversations with members of our Ghanaian alumni in his home country, who advocated that his educational development would be in good hands here in Berkshire.
Having researched the MSc Environmental Management course in more detail, he was particularly interested in pursuing his studies due to the topics covered on the course.
"The comprehensiveness of the curriculum mainly in terms of its applicability in the African context is remarkable, especially since there are modules dedicated to various geographical locations, for instance, the module 'Agriculture in Tropics'."
The combination of modules, flexibility of teaching times and frequent opportunities for field trips and field work helped Henry to develop holistically and ensured he was able to perform at his best, as a student and a graduate.  
Learning from world-leading academics
As one of the top 20 UK University's for research intensity, Reading is home to world-class interdisciplinary institutes and centres, attracting inspiring academics from around the world to further their leaching and research.
"Professor Chukwumerije Okereke (my personal tutor and dissertation supervisor) greatly influenced my thought process as a youngster in the field.
"His firm but objective and needful criticisms, contributions and pep talks enlightened me on gaps to look out for in the industry, and how critical sustainable human capital development has become for global environmental management."
Inspired by a passion for tackling the impacts of climate change in his home country and across the world, Henry actively engaged in the support offered by the department, including fieldwork opportunities, career counselling, report writing and delivery of quality presentations. Skills he now uses in his work as a consultant.
"I participated in all fieldwork opportunities during my course in Reading.
"I vividly remember my visit to the Chineham Energy Recovery Facility where I experienced for the first time how waste was converted to energy for public consumption; a great green innovation I hope to contribute to setting up in Ghana in the future."
Creating bright futures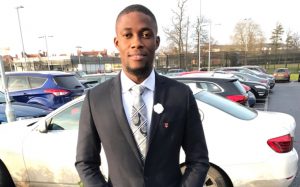 Since graduating in 2016 with an MSc in Environmental Management, Henry has gone on to work as a Consultant in Environment, Climate Change and Development for the Institute of Green Growth Solutions (IGGS).
"At IGGS, my role comprehensively looks at undertaking research and providing other forms of relevant support for programmes, projects and initiatives under: environmental management, climate change adaptation and mitigation, development (gender, policy and strategy improvement or formulation, advocacy and dialogue), food security and nutrition, sustainability and sustainability transitions and project evaluation."
Studying for his master's at Reading gave Henry the opportunity to attain the knowledge and skillset to have a real impact on the world around him, and the competitive edge to embark on a successful career in environmental management.
At Reading, you can work with world-leading research academics, collaborate on projects with employers in your chosen industry and shape your studies to suit your interests and aspirations – and as a member of Reading's alumni, you can also benefit from a 10% reduction in tuition fees for your postgraduate studies.
Find out more about returning to Reading to achieve a master advantage.