Reading alumna, Teuleala Manuella-Morris, supports island communities affected by climate change.
Hundreds of thousands of young people have taken to the streets this year to protest the government's lack of action on the climate crisis, and here at Reading, we have long understood the power of young graduates to drive real change in this area.
Reading has always sought to provide the teaching, opportunities and inspiration that allows impassioned students to turn their enthusiasm and commitment into real-world impact – wherever around the globe it may be needed.
When Teuleala Manuella-Morris became the first girl from Tuvalu to study at a UK university during the 1980s, she was inspired to work hard to ensure that other girls from this tiny group of islands in the Pacific might also have the same opportunities to attend a European university.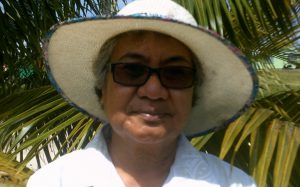 However, the impact of her Postgraduate Diploma in Agricultural Extension from Reading's School of Agriculture, Policy and Development went far beyond providing a legacy of opportunity.
Having learnt about agriculture on a global scale as well as the impact of international policies on rural communities around the world, Teuleala was able to put her learning into practice, playing a critical role in supporting all pacific island communities in their work to tackle the impact of climate change.
"As a Local Monitoring and Evaluation Consultant for the Tuvalu Biogas project, I design methodologies to evaluate the impact of the use of household biogas by protecting food and energy sources from the effect of climate change."
With over 30 years of experience in the field, Teuleala now works within the Secretariat for Pacific Community, a regional organisation which oversees all pacific island communities, providing technical assistance and funding.
Recently awarded by Her Majesty The Queen with a Commonwealth Points of Light Award in recognition for her support of island communities affected by climate change across the region, Teuleala credits the important role Reading played in her learning and development.
"Studying at Reading broadened my view of the world and exposed me to new ideas of how communities could aspire to sustain themselves and identify applicable development projects.
"The course gave me a global perspective on agriculture, and this wide understanding has supported me in identifying what is best for the community and prepares you for what is yet to come.
"Because of this, I have been able to make strong decisions to bring about change in Tuvalu, in order to better our communities."
Find out more about the current postgraduate opportunities available within the School of Agriculture, Policy and Development.