We recently caught up with some our London alumni at a special alumni reception, where they reminisced about their time at Reading and told us about what they've been up to since graduating. 
Held at the vibrant venue of Patch St Paul's, located in the heart of London and right outside the doorstep of the famous St Paul's Cathedral, a range of alumni including graduates from 1960 all the way through to 2019, joined us to reconnect with old friends, reminisce about old times and network both personally and professionally.
With over 10,000 of our alumni living and working in and around the capital, it was great to see a new sense of community arise from this lively drinks reception, and many of the attendees felt that events like these proved to be invaluable.
"Please keep doing these events, it's so good to catch-up with other alumni from a range of different industries."
(London Alumni Reception drinks attendee)
"I've met some really interesting people and these events have allowed me to develop both personally and professionally."
(London Alumni Reception drinks attendee)
As a team and a University, we would love to put on more regular events for our London alumni, but we need your help.
Starting your own group
Across the world we have numerous self-run alumni groups, not just for maintaining University friendships, but also for creating opportunities to meet other graduates, share stories and network in a professional capacity to help fellow graduates succeed in their careers.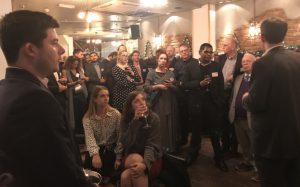 Following our London Alumni Reception, we've had some volunteers come forward to help get a London group up and running, but we are always on the lookout for more recruits. So, whether you have an office space that you could lend for an event, have something interesting you'd like to present to your peers, or have recently moved to London and are looking for fellow alumni to connect with, we'd love to hear from you.
Our groups are vital in building and strengthening the University of Reading's alumni community and keeping students, staff and graduates connected beyond University life. By getting involved, you can facilitate these connections and even make new friends of your own from different walks of life.  
We're here to help
If you are interested in starting a London group, or a group anywhere else around the world, then please do get in touch. We can help make your group a success by reaching out to contactable alumni on your behalf, notifying you of new volunteers, keeping you up to date with University of Reading activities in your area or even providing staff to help support your own alumni events.
Find out more about alumni events.