Student journalist, Taz Usher, was recognised with an award from the Student Publication Association for her impactful article on sexual consent and safety. 
As a current English language and linguistics student at Reading, and print editor of the University's student-run magazine, The Spark, Taz has often praised the opportunities student media has given her in achieving writing success. At the recent South East Regional Student Publication Association Awards, Taz was named winner of the Best Impact category for her article on sexual consent and safety, which first appeared in The Spark's September edition last year. The article featured advice for new students on where they could access support services while at university.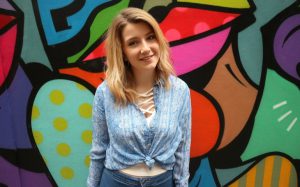 "As editor of The Spark, I feel a responsibility to provide readers with a mixture of content which they can enjoy and learn from, as well as that which they can turn to for guidance on issues that are characteristic of the student experience.
"The article's headline 'Let's talk about Sex and Safety' aimed to capture the new students' attention by presenting the topics as things which we shouldn't be embarrassed to talk about. Winning the award meant a lot to me as it reminded me why I give up so much time to The Spark each week. However, as for any journalist, learning that your work has had the impact you intended is a reward in itself."
Turning a hobby into a career
With Taz now in her final year at Reading, and having spent the last year writing part-time as a trainee reporter for a local newspaper, she is hoping to turn her passion for writing into a long-term career. The experience she has gained through writing for The Spark – which was established back in 1934 and covers topics from news to entertainment to sport – has helped to boost Taz's confidence and writing portfolio.
"Writing for The Spark is a fantastic opportunity which can help students to improve their writing style, enhance their CV and portfolio, and develop skills applicable to careers in journalism, PR and marketing.
"Opportunities such as reporting at Reading Festival, Summer Ball and Varsity, as well as attending national conferences and award ceremonies, are also available to members.
"It's also been a lot of fun, we've had guest speakers come in to speak to our members, from past editors who have gone on to work for national newspapers, to industry experts who have given us crash courses in media law and InDesign training.
"When you are starting out in journalism, one of the most frustrating parts is trying to get experience when you don't have any experience: it can be a catch-22 situation.
"So, writing for a student publication can be a great way in: you don't have to be the best writer in the world, but having lots of enthusiasm and motivation can help you get started."
Opportunities at Reading
The Spark is not the only opportunity for students at Reading to get involved with journalism and marketing. The University's Students' Union, RUSU, also hosts its own radio and TV stations, as well as a photography society which students are welcome to join. These opportunities are key to building work experience and giving students the chance to have fun and make friends. Daisy O'Connor, RUSU's Activities Officer, said: "The student-led media opportunities we have on offer at the University of Reading and RUSU give students real-world experience in their chosen fields. A lot of our students write for the newspaper or join the radio and TV societies for fun, to try something new and meet different people, but we know that an increasing number join to add experience to their portfolios. Even if you don't go into media after university, the communication and leadership skills you learn will benefit any career.
"By having professional-standard facilities, equipment and studios that our students can use, they are entering the workplace ahead of the pack with skills and expertise that will help them in their day-to-day tasks.
"Students like Taz also have the chance to attend student media conferences where they can keep up-to-date with industry developments, network with their peers and gain insights from professionals. All of these benefits are also really key when it comes to making your CV stand out. The Spark has benefited immensely from her work as an editor and I'm very glad that this is being recognised elsewhere!"
Find out more about the student-led media opportunities on offer at Reading.