As the Science Editor for ITV News, Reading graduate Tom Clarke is at the forefront of reporting on the COVID-19 pandemic. Tom tells CONNECTED why it's so important he asks those difficult questions.
Tom is co-leading ITV's coverage of COVID-19, putting him in front of the politicians and digging deep to get the answers the public want to know. Tom speaks to CONNECTED about how he went from pretending to be a mosquito at Reading, to reporting on a worldwide pandemic.
A fascination brought to life
Tom's fascination with the natural world led him to study Zoology at Reading, before embarking on his career in science reporting. He tells CONNECTED:
"I was one of those kids who collected skulls and dead things on the beach and tried to smuggle them home. Zoology was a natural choice for me. The course at Reading was fascinating, taught by a cast of very colourful characters.
"One of my long-lasting memories was a field trip led by the then Dr Amanda Callaghan (now Professor), where I tried to disguise some dodgy data we had collected on mosquitoes by giving a performance presentation, involving myself and my fellow students dressing up as mosquitoes and buzzing. I certainly made some great memories during my time at Reading.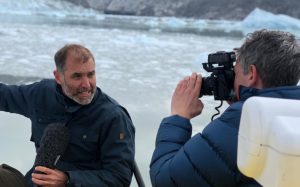 "Like most of my smartest moves my route into TV was completely unplanned and chaotic. After graduating from Reading I went to study a PhD in entomology at Louisiana State University in the US. I wasn't a very successful lab scientist and during the long and lonely hours in the lab I realised I preferred writing about science instead of doing it. I was then lucky to get a place studying science journalism at New York University, and via a couple of – thankfully paid – internships I landed a job at the science journal Nature back in London. After three years there I became a science reporter at Channel 4 News, until 2018 when I moved to my current job."
While Tom didn't initially plan for a career in TV, he's grateful to Reading for the springboard it provided him.
He said:
"I love my job and my science background from Reading has been enormously important in helping me to achieve what has turned out to be an exciting, fulfilling, and surprising career.
"In normal times my reporting covers everything from particle physics to climate change – a range of topics I have no specific expertise in. But my Zoology degree has given me an understanding of how the process of science works, and what the characters who do it are like, and this has really helped me in my career. Above all, what I've learned is that it's not actually my job to be the expert – it's simply to know what questions to ask the experts on behalf of our viewers or readers."
Reporting on COVID-19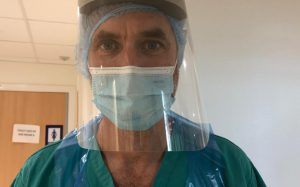 Tom's role as ITV News Science Editor has thrust him into the centre of reporting on the pandemic, which is like nothing he's ever experienced before.
He said: "In 2014 I travelled to West Africa to cover the Ebola outbreak – the danger of that virus was staggeringly different to COVID-19. Ebola is spread by contact, making it easy to avoid. We also had the knowledge that, unlike for the people living in West Africa, it likely wouldn't reach our shores.
"Watching COVID-19 approach the UK, and then reporting on how it has turned all our lives upside down, has been strange and disturbing – and like nothing I've ever reported on before.
"ITV's Health Correspondent Emily Morgan and I have been leading ITV's coverage of COVID-19. I've been really pleased that my editors put their specialist journalists at the forefront of this really complex and fast moving story. I've been asking questions of the government at the daily COVID-19 press briefings and I even went to Number 10 in person at the beginning of the UK's outbreak.
"Number 10 is normally the fiercely guarded domain of the political journalists, so it's been gratifying to be reporting on the pandemic and using my science background to get to the heart of the issues."
Not only has the pandemic given Tom a completely different experience in the type of story he's reporting on, it has also overhauled the way he works.
He said: "Before COVID-19 we would always try and get to where the story is in person, but of course we can't always do that now. Fortunately for TV, along with the rest of the working world, online video call platforms are making it possible to still speak to the people we need to. When we do interviews in person we're having to remain aware of social distancing using an awkward array of tripods, poles and longer lenses to capture footage that before COVID-19 was incredibly easy to achieve."
Proud to keep the public informed
Tom feels the responsibility that comes with his job to keep the public up-to-date and to hold politicians to account – and he is proud to do so.
He said:
"It has been an honour to be part of a team of people keeping everyone informed about what's going on in these uncertain times. I've never been more aware of the fact I've got a real responsibility to do that.
"It's also a massive responsibility to hold government and various agencies to account at difficult times like this, and ask the difficult questions they'd rather we didn't ask. It's also been a real privilege to be one of the few groups of people permitted to travel freely at the moment – to see different parts of the country in this strange and eerie time.
"But I'd give it all up in an instant to put this disease behind us and get on with reporting on all the other fascinating, inspiring and important stories that science and our natural world have to offer!"
Discover more about how our inspirational alumni are contributing in the fight against COVID-19.