Professor Robert Van de Noort, Vice-Chancellor of the University of Reading, shares a message of mourning and solidarity following the terrible events that occurred in Forbury Gardens, in Reading town centre, on Saturday 20 June.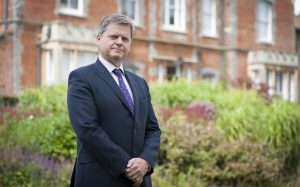 Professor Van de Noort said: "We were all truly saddened and shocked by what happened in Forbury Gardens. My thoughts are with the whole Reading community; those who are injured and their loved ones, and the families of James Furlong, David Wails and Joe Ritchie-Bennett who tragically died.
"I would like to thank our emergency services for their professional and fast response to this incident. The actions of police and medical staff will have saved lives.
"The whole Reading community is in shock. But our community is strong and I know that we will stand together to support one another in the days ahead.
"Reading is usually such a safe, friendly town that this incident feels particularly shocking. I know many of our students and staff will be shaken by this news, and we are encouraging them to make use of our support services if needed."
Tribute to James Furlong
The Vice-Chancellor also shared a tribute to James Furlong, one of the three people who died following the Forbury Gardens attack. James was a teacher at a school in Wokingham and a mentor for trainee teachers at the University of Reading's Institute of Education.
Professor Van de Noort said: "I was deeply saddened to learn that James Furlong was one of the victims of this terrible attack. James was Head of History and Government and Politics at the Holt School in Wokingham, one of our partner schools with whom we have a close relationship for teacher training. The school's co-headteachers have described him as 'talented and inspirational'."
Will Bailey-Watson, subject lead for history teacher training at Reading described James as a 'kind and giving man'.
Will said: "He was an inspirational mentor for new teachers. He found time to really listen to the students he worked with. One of our students last year even based her final assignment around some advice that James gave her when she was struggling. He pushed colleagues to think hard about their craft.
"I learnt something from him every time we chatted about history teaching. I will miss working with him. My thoughts are with James' family, friends and everyone in the Holt School community."
The day after the attack, the Vice-Chancellor requested that the University's flags be flown at half-mast, as a mark of respect for those who died. On Monday 22 June, the Reading Mayor and the Leader of Reading Borough Council led a minute's silent reflection at 10am, followed by an online vigil on Saturday 27 June where people were encouraged to light candles in solidarity.
Professor Van de Noort said: "While social distancing regulations meant that we were not able to physically come together to mark this moment, as we normally would, our community came together virtually to show support for those who are mourning loved ones, and solidarity with our Reading friends and neighbours.
"It is moments together like these, when no words are spoken, that say the most about us as a united community.
"We are thinking of James Furlong's and the other victim's families, friends, students and colleagues, whose lives will be poorer without them".
The University has been providing practical support to Reading Borough Council and the wider community, and helping to support #ReadingTogether, the message of unity in the aftermath of the tragedy. We have everyone within our alumni and supporter community in our thoughts.