The University of Reading is committed to supporting the NHS and our community throughout the pandemic. CONNECTED takes a look at how some of our inspirational students are leading the way.
From running a COVID-19 test centre, to volunteering with charities who need extra support during lockdown, our students are giving up their time to support others in need.
Running a COVID-19 test centre
COVID-19 testing has been happening in part thanks to a Reading student who put himself forward to supervise a local centre.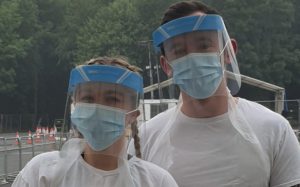 Ryan Swales, a master's student in Reading School of Pharmacy,  has been working as a supervisor and tester trainer at a COVID-19 testing centre in Hull since April. Ryan and his partner decided to join the testing centre to support the NHS during these difficult times.
Ryan said: "I have always enjoyed interacting with patients and being able to help in any way possible. Having spoken to patients in the pharmacies and hearing how the virus had affected so many lives, both young and old, made me want to do more.  
"The work onsite has been fantastic with each day presenting us new opportunities to meet and help people.
"Initially the work was very daunting, having little experience managing a multidisciplinary team alongside external contractors at this scale, but I soon found that this apprehension was shared by everybody!  
"Our teams consist of people from all walks of life, including chimney sweepers, tattoo artists, art gallery managers, electrical engineers, ex-prison officers, and undergraduate students – including my partner who is a microbiology student at Reading.
"Working alongside other people who have shown nothing but dedication to helping others has made me proud to be a part of this project." 
Ryan and others who are testing people with COVID-19 symptoms receive specific training from a team of pharmacists on swabbing, Personal Protective Equipment (PPE), infection control and patient management. Ryan also received additional support to become a supervisor and tester trainer, with a focus on NHS guidelines and governance, site management, and the teaching and training of future testers. 
Ryan said: "The days vary with changes to guidelines and restrictions on testing criteria allowing new groups of people to be tested, from children and teenagers, to care home teams and NHS staff. The days are long, but rewarding – some interactions with those being tested are fun and light-hearted, whereas others just need a little bit of support during a distressing and difficult time.  
"My partner and I both wanted to do as much as we could to help, and felt that joining the testing centre was the perfect way to support the NHS and our community." 
Dr Mark Dallas, Head of Outreach for the Reading School of Pharmacy, said: 
"It is great to hear of Ryan's work and contribution to combatting COVID-19. Our pharmacy students are well-equipped to lead from the front in the test centres, and it is a reflection of Ryan's commitment to helping others that he is involved in the national testing programme." 
Helping charities in need
While Ryan is doing an incredible job running a COVID-19 test centre, 50 other University of Reading students are also volunteering their time during lockdown by helping local charities.
The University is running a matchmaking scheme to connect students with local charities whose services are being affected by lockdown. The scheme has supported eight charities so far, matching them with students who have skills in areas such as social media management or translation, to help them with their additional needs during the pandemic.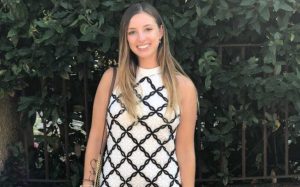 Jenny Putnam is one of the student volunteers – she has begun working with a local women's charity, Alana House, run by Parents and Children Together (PACT). Jenny has been supporting the charity with some of the communications challenges it is experiencing as face-to-face support has had to stop during lockdown.
Jenny, a third year animal science student in the School of Agriculture, Policy and Development, said:
"I've been helping with some ideas about ways to engage with the women more as they have struggled to get many of them to engage with Zoom calls. I've also been advising on other ways to try and connect with a wider audience.
"I understand how difficult this situation has been for people, especially those who are in more trying situations, and I wanted to do whatever I can to help out people who may be facing an extra struggle on top of what is already going on."
Laura Rogan, a senior support worker at Alana House, said:
"The materials that Jenny has sent over have been really helpful and informative, and work well with what we are trying to achieve with our clients during lockdown. Jenny has been keen and flexible to adapt what materials she sends to meet the needs of our clients. I'm looking forward to working with Jenny to develop this work further."
Sarah Gardner, Community Relations Manager at the University who is helping to oversee the scheme, said:
"We developed this scheme as a result of conversations with local community organisations who are struggling to adapt to changes due to COVID-19. The scheme matches community organisations to student volunteers who then provide technical and digital skills, and help with other vital tasks such as translation and logistics.
"The great thing about the scheme is that it is remote, so everyone can stay safe, and it is a tailored scheme so we can make sure organisations are getting the right help from our student volunteers."
Read more about the student volunteering scheme, or if you run a charity and would benefit from the scheme, please complete this short form.