Reading graduate, Alex Kordek, created his own dance and entertainment agency and now lives in L.A. working with a host of big stars. He tells us how his experiences at Reading set him on the path to achieve his career dreams.
Embracing education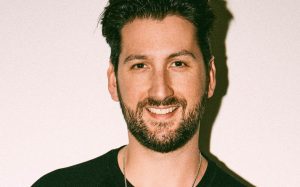 Alex was drawn to the University of Reading because of its beautiful Whiteknights campus, thriving town, and its proximity to London enabling easy access to work experience opportunities and theatre trips.
He said: "I enrolled at Reading on an American Studies course, but quickly realised I should have followed my passion and studied Film and Drama, for which the University of Reading was number one in the country at the time. I've always been inspired by being part of a creative space. I requested to switch courses and the University ensured it was a smooth and quick transition for me.
"I loved both my time at Reading and my degree. The course was well-structured, the department was amazing, and the staff were so knowledgeable and experienced. The wide range of modules meant I could explore Third World cinema through to American and Indian cinema.
"At Reading I had access to a large theatre, professional cameras and editing suites – in fact, the editing programme I was trained on at Reading is the one I still use in my work today. On the drama side of my degree, I learnt about stage production and management, lighting and sound, as well as performance.
"That access to technology and opportunities to learn a range of skills made a real difference to my career."
Reaching for the stars
During his time at Reading, Alex secured work experience at a television company in London which led to his first job in music licensing. However, Alex was passionate about a performance career and decided to take a leap of faith.
Alex said: "I chose to get a teaching qualification in fitness and exercise, funding myself by teaching in gyms whilst I learnt. My career got a boost when Time Out Magazine featured my private dance classes which were a unique and exciting concept back then, so this press really helped. I secured modelling, dance and acting agents and spent a five-year period building up my experience.
"Then in 2008, I was ready to start my own business. I knew I wouldn't be able to perform forever and I wanted to plan for my future."
Alex set up AJK Agency offering corporate team building sessions, and the company grew into a dance agency representing dancers and models.
He said: "In 2019 I moved to L.A., where I now work as a choreographer and creative director with A-list celebrities on music video projects. L.A. is so huge – you have to start from scratch with no contacts. But it's also inspiring and I've experienced amazing things there.
"I believe anyone can do anything if you put your mind to it and work hard, and I'm really proud of what I've achieved."
Words of wisdom
Alex's advice for anyone wanting to experience the buzz of a career in the entertainment industry is:
"Build up your contacts, be versatile, and be your own business."
He elaborates: "You need to brand yourself and offer something different, and be flexible – for example at Reading I transferred to a different course, and throughout my career I've evolved from acting, to dance and performance, to the life coaching I'm doing now. For anyone interested in breaking America, then be really well-prepared, expect to start from scratch, and be patient."
For those students who are following in Alex's footsteps in Reading's Department of Film, Theatre & Television, he advises: "Take advantage of the technology and opportunities that are available to you. My learning from Reading transcends into my work now, from time management to editing skills.
"I loved my time at Reading and I'm grateful that my time spent there gave me the knowledge and experience to succeed in my chosen career."
Watch recorded talks from the University of Reading's October Virtual Open Days – available to view until 24 October – to find out where Reading could take you.