A new 'Stars and Climate Stripes' visualisation of climate change in the US shows a continuing trend of rising temperatures, as President Biden prepares to lead the country back into the Paris Agreement.
The original climate stripes graphic was first created by University of Reading climate scientist Professor Ed Hawkins in 2018 and has since been shared worldwide. It uses stripes in shades of blue and red to illustrate the average global temperature for each year for more than a century, instantly showing the clear warming trend across the world.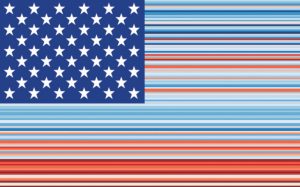 Since then, it has been replicated to show temperature rises in more than 200 countries and each of the US states, and has become a global symbol for climate change.
The University of Reading and Professor Hawkins have now created a new image – combining the climate stripes graphics, showing the visible heating trend for the US, with the iconic Stars and Stripes.
A significant moment
President Biden has made climate action one of the top priorities of his new administration, and notified the United Nations of the USA's intention to re-join the international accord on 20 January, the day of his inauguration. The process of re-joining takes 30 days, meaning the US is set to officially be part of the Paris Agreement again on 19 February.
Countries in the Paris Agreement share a commitment to reducing carbon emissions with the aim of keeping the global temperature to less than 2°C above pre-industrial times.
The new graphic to mark this significant moment is available to download for free. Every American who wants to show their support for a greater understanding of the climate crisis can now display actual data showing how temperatures have risen where they live.
Original climate stripes graphics for every US state can also be downloaded for free.
Professor Hawkins, creator of the climate stripes, said:
"Just as the iconic Stars and Stripes represent American freedom and unity, the climate stars and stripes stand as a symbol of the impact humans are already having on our climate, wherever we live.
"The increasing reds and decreasing blues in the stripes show how far the climate has warmed already. If we want to leave future generations with the same freedoms we have come to enjoy, we cannot ignore this trend or the deadly impacts of where climate change is going next.
"Reducing greenhouse gas emissions to meet Paris Agreement targets will require major, government-level action, as well as changes by individuals.
"The United States has an opportunity to show true global leadership, and acknowledging the impacts and causes of warming that have already happened is an excellent starting point."
Find out more about the new 'Stars and Climate Stripes' image.