Climate activist, Josh Tregale, speaks to CONNECTED about his determination to raise ambition ahead of COP26, and his mission to embed climate education around the world.
"The climate crisis isn't just a problem for scientists and geographers," Josh explains. "It affects everyone, and therefore everyone needs to unite behind the science and work towards sustainability.
"The impacts of the climate crisis are devastating, and those most affected by them have contributed the least towards causing the problem."
Josh – a Mock COP26 Campaign Coordinator, International Campaign Coordinator at Teach the Future, and Climate Education Summit keynote speaker – shares how he has spent his gap year campaigning for climate action ahead of the 26th UN Climate Change Conference of the Parties (COP26), and what he hopes the Summit will achieve in the long-term.
Empowering future generations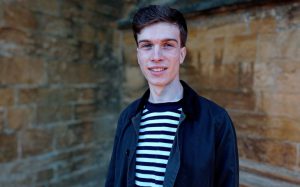 Josh explained: "Mock COP26 was established when the conference was postponed last year due to the pandemic. It brought together over 330 youth delegates from over 140 countries online and demonstrated the ambition and dreams of young people worldwide fighting for a fair, equal and green world. I worked as an Event Coordinator, helping to organise the international youth climate conference where the youth were the decision-makers.
"The conference culminated in the Mock COP26 Treaty which was a global declaration to world leaders on themes such as climate education and climate justice. I now work as a Mock COP26 Campaign Coordinator, supporting over 500 volunteers and delegates to reach out, meet and lobby for the Treaty to be implemented."
Read more about the Mock COP26 Treaty.
In his current role, Josh is involved in planning the projects and events run by Mock COP26, which include highlighting the action on the frontline of the climate crisis, campaigns enabling students to educate their teachers about the climate education they want to see, and an education ministerial at COP26 to generate pledges.
Josh was also delighted to be appointed the UK's Youth Representative on Italy's Youth4Climate Advisory Committee, which took place in Milan from 28 – 30 September 2021.
He said: "I helped with the planning for the Driving Ambition Summit, which brought hundreds of youth delegates together ahead of COP.
"My role was to ask questions, offer thoughts, and support with the organisation and planning of the event. I attended the event as a bridge builder to support conversations and discussions, and help capture delegates' positions to shape a unified statement."
A lasting legacy
When asked why he spent his gap year campaigning for climate action, Josh doesn't hesitate: "With 2020 being full of setbacks and disruption because of the pandemic, I wanted to make sure that the unique opportunity afforded to us by the postponement of COP26 could be realised.
"For me, it's important to rise above the adversity that has disproportionately affected my generation and show the world the ambition and hopes we have.
"The recovery from this situation has the potential to leave a lasting legacy, and signal a new phase in our commitment to preserve our natural world and those who live in it. It's imperative that we look beyond the devastation of this pandemic and see the opportunities that can arise from it."
Josh's efforts will culminate at COP26, but he is clear that the conversation needs to continue beyond this event.
"COP26 is crucial because urgent action and commitments are needed to keep the 1.5 degrees target alive and attainable," he said. "I hope that COP26 will achieve a strong commitment with a mechanism for climate finance, climate loss and climate damage. I also want to see progress on the transition away from fossil fuels, and for climate education to be recognised for the vital role it has.
"All of the action I've undertaken this year has been to raise ambition and to ensure that young people's voices are heard, not only at COP, but also beyond so that we can achieve tangible actions in the fight against climate change."
Climate education
Josh firmly believes that climate education is an important step in empowering people to tackle the climate crisis.
"I got involved in Reading's Climate Education Summit because climate education is vital for empowering young people and the next generation of leaders to be part of the solution for tackling the climate crisis," he explained.
"We need to understand the most significant threats we will face in the future and be prepared for what we can do to reduce the impacts."
As well as his participation in the Climate Education Summit, Josh is the International Campaign Coordinator at Teach the Future, a UK climate education campaign. He said:
"We are campaigning for the government to make climate education a mandatory and core part of the education system and provide the necessary training for teachers and educators.
"I work on climate education campaigns in various countries around the world, improving communication between groups and enabling advice and support to be shared. Part of this has involved setting up a Global Climate Education Network to allow for this support and sharing to happen more smoothly."
A beautiful future
Josh has recently embarked on a degree in mechanical engineering at Imperial College London, and after graduation, plans to go into the renewable energy sector. He said: "My ambition is to work on some of the solutions to decarbonising energy networks.
"I hope that the world I retire in, and which future generations are born into, is one that still has the wonder and beauty we have now due to strong and concerted action. Success with tackling the climate crisis will lead to a fairer society, and I hope to see a world free of poverty and inequality."
Find out what the University of Reading are doing ahead of COP26.