This week, we celebrate the achievements of our 2022 Distinguished Graduate of the Year – Charlotte Arrowsmith – who is a Deaf Actor, Theatre Director, Drama Workshop Leader, and Creative British Sign Language (BSL) Consultant for the Royal Shakespeare Company (RSC). Charlotte also shares with CONNECTED the challenges and barriers she has faced, and shines a light on the importance of sign language in our society.
It is estimated that 151,000 people across the UK use BSL, and of these users around 87,000 individuals are deaf. Although BSL has been used for centuries, it was only recognised as a language in its own right nineteen years ago and – up until recently – had no legal protection. In June 2021, the first BSL Bill was introduced and passed through the House of Commons in March of this year, receiving unanimous cross-party support.
The resulting BSL Act has raised the public's awareness of the language and marks a significant step towards better representation for the Deaf community across the UK.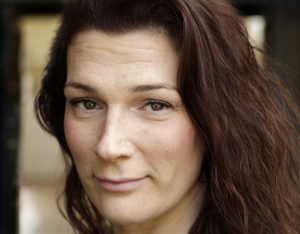 Charlotte is the only Deaf member of her family, and from a young age developed speech, BSL, and lip-reading skills to communicate with the Deaf community and the rest of the hearing world. She studied sports at Doncaster College for the Deaf with the intention of becoming a professional sports coach, but after discovering the BA Theatre Arts, Education and Deaf Studies at Reading, Charlotte decided to change her career ambitions.
"I've always been passionate about performing arts, but back then opportunities for young Deaf people in that arena were few and far between. However, after attending the University's Open Day I found my inspiration and never looked back.
"The course provided me with an opportunity to mix with a diverse group of hearing and Deaf students and demonstrated how we could all work together to achieve our goals. It also encouraged me to make friends in the hearing world, helped me to recognise my worth as bilingual Deaf person, and overcome the challenges and barriers I faced," Charlotte explained.
"At times this was stressful and exhausting, but totally worth it. It enabled me to develop more skills and gave me the confidence to build my career. Without a doubt my degree played a huge role in shaping me into the strong person that I am today.
"I will always be grateful to Yasmin [my interpreter], Lynn [my support worker] and Dr Simon Floodgate [my personal tutor] for all their support, but most importantly, for believing in me," she reflected. 
Upon graduating, Charlotte wasn't sure what she wanted to do next and so decided to stay in Reading for another year. During this time, she auditioned for her first professional acting job with Face Front Inclusive Theatre, based in London. After her first acting stint, Charlotte embarked on her next adventure – backpacking around Australia – and on returning from her travels was offered more acting work.
"I started to lead and teach drama workshops and got more involved in directing," she said. "And through these types of roles I gained a lot of experience working with theatre companies such as Handprint Theatre, Deafinitely Theatre, The Globe and the National Theatre."
Making history
In 2018, Charlotte made history by becoming the first Deaf BSL actor to take on the role of Cassandra in Troilus and Cressida – which was directed by Gregory Doran at the RSC. And in 2019, she made history again when she performed as an understudy using BSL for a primary role in The Taming of the Shrew at the RSC, which toured across England. "Whilst playing the role of Curtis, I was also asked to be the understudy for Vincentia.
"Turning Vincentia into a character who 'happens' to be deaf and uses BSL felt extremely empowering! We only had a day or two to rehearse with the full cast, but everyone adapted really quickly which just goes to show how much can be achieved when BSL is shared."
The success of her performances and involvement with various projects led her to become the first Deaf associate artist for the RSC – a title that Charlotte was fiercely proud to receive. She said:
"For me, it's all about trying to change the narrative in the industry."
More recently, Charlotte has continued to deliver her freelance work and workshops, is involved in developing research projects and auditioning for her next acting role. She is also a creative BSL consultant for the RSC, which involves working with interpreters to help them integrate alongside a hearing cast with as little disruption to a performance as possible. "And finally, I'm exploring playwriting which I hope will develop my skill set even further and give me the confidence to put my own stamp on things," she said.
Overcoming challenges and barriers
 Although Charlotte has a huge amount to be proud of, her incredible achievements have not come without challenges. She tells CONNECTED about some of the barriers she has faced and shines a light on the importance of sign language in our society.
"Growing up in a hearing world that often disregards minorities will forever be a part of my story.
"In a school where oralism was favoured over any other communication, I lacked the ability to communicate freely and struggled to see where I belonged. However, at college and university where BSL was recognised and accepted, I began to communicate more freely, grow in confidence and find my identity," she shared.
"Living in a world that doesn't understand BSL leads to a minefield of difficulties. After years of prejudice and oppression, finally we are starting to see changes in attitudes which is leading to greater diversity, equality and inclusion for the Deaf community.
"It's time for us to claim back our language and culture," she said. "And educate others about adapting and accepting other people's differences to make the world a fairer place for us all to live in. I fully intend to play my part in all of that," she added.
It is clear that Charlotte is passionate about effecting change and, to recognise her outstanding successes to date, CONNNECTED is delighted to announce that she has been awarded the accolade of our Distinguished Graduate of the Year 2022. We are excited to celebrate with her – in person – at our graduation ceremonies this month. When asked about how she felt about receiving the Award, Charlotte said:
"Speechless! And truly honoured to be valued for my work and achievements – being recognised proves that hard work really does pay off. I cannot tell you how much I appreciate it."
A bolder approach to change
Looking ahead to the future, Charlotte believes that a bolder approach to change is needed.
"Going forward, I want to be part of a truly diverse industry that creates roles to suit everybody – without bringing attention to their differences. I want our industry to be one which encourages the art of creating plays collectively, and an industry which inspires more Deaf people to share stories about their experiences on stage, on TV and in films," she said.
"Personally, I'd love the opportunity to direct performances at the RSC, National Theatre and The Globe – and produce plays with a full Deaf cast, or a cast made up of 50 per cent hearing actors and 50 per cent Deaf actors.
"My hope is that one day the Deaf community are represented equally alongside the rest of society," she concluded.
Find out more about studying theatre and performance at Reading, follow us on Facebook and Twitter to hear more about our Summer graduation ceremonies, or discover more about BSL.