Hannah Pexton, Manager for Land and Collaborative Planning at Melbourne Water, speaks to CONNECTED about her work to enhance life and liveability in Melbourne amidst the growing climate crisis. 
Having always loved nature and growing up with parents who taught her about the importance of contributing to the wider community, it's no surprise that Hannah is passionate about the environment. Hannah believes that:
"We only have one world, and protecting its environment, nature and biodiversity is imperative for future generations."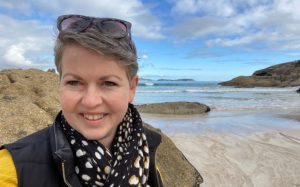 Hannah studied geography at Reading. "It was the best decision I've ever made," she reflected. "The experience really helped me to grow in confidence. I gained a lot of knowledge that has been directly transferable to my job in the environmental industry, together with skills such as teamwork, presenting, and critical and strategic thinking.
"It opened my eyes to different industries and grew my passion for water-related work – an area that I've managed to develop a varied career in," she added.
Upon graduating, Hannah pursued various roles at the Environment Agency – including becoming part of the team that implemented the EU Water Framework Directive into England and Wales.
Hannah's next move defined the rest of her career. She applied for a job at Melbourne Water, who sponsored her to move halfway across the world to support them with their river policy and strategy. She said: "That was sixteen years ago and I've never looked back."
Hannah tells CONNECTED how important it is for society to work together to achieve more sustainable communities, and how we must grasp this chance to protect our world.
Enhancing life and liveability in Melbourne
In her latest role as Manager for Land and Collaborative Planning, Hannah and her team are responsible for enhancing the life and liveability of all Melburnians.
"I lead a team that aims to maximise community benefit from the services we provide in water, sewage, waterways and drainage management, across 33,000 hectares of land and 25,000 kilometres of rivers and creeks.
"We aim to increase our community's connection to nature and recreational opportunities by transforming places, and creating healthy, liveable and safe spaces along waterways and land," she explained. "And we've successfully done just that through a number of projects including Greening The Pipeline and The Garden of Hope."
Greening The Pipeline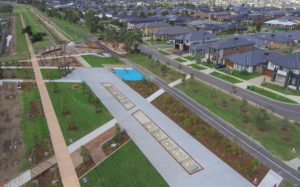 Hannah told CONNECTED that Greening The Pipeline aimed to transform a decommissioned sewer and reserve built in the 1890s, into a natural, vibrant space to connect communities by providing a place for neighbours to meet, play and relax.
"Together with our partners, we built a small area of parkland to showcase the potential to green the pipeline," she said. "Within that space, we incorporated stormwater harvesting and irrigation, green open space, and facilities such as exercise equipment, seats, a drinking fountain, bike stands and lighting.
"The initiative improved connectivity within the wider community and with those who lived directly on either side of the sewage pipe reserve – a far cry from the old concrete sewage pipe and the chain mail fencing that had been up either side of it."
The Garden of Hope
Together with Hope City Mission, Hannah and her team managed to open up some of their land to the community through The Garden of Hope initiative.
"Hope City Mission is an organisation whose emergency relief programmes provide food banks, financial assistance and advocacy, and life skills workshops to those with the greatest need," Hannah explained.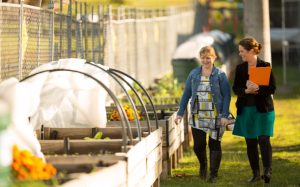 "We cornered off a strip of water pipe track reserve and provided access to that land to Hope City Mission, who then created garden beds. They grew vegetables in these beds to help their clients understand how to use fresh produce and prepare healthy meals, as well as to supplement the fresh produce they distribute to the community every day.
"It's incredibly rewarding when we're able to transform sections of our landholdings and assets to benefit the wider community."
Tackling climate change
Hannah shared how the United Nations Sustainable Development Goals have focused the world's attention on the things that are most important.
"These goals are a good way to guide business priorities when working towards a more sustainable future. I think society needs to work together and demonstrate impactful innovation and leadership to tackle what is a very multifaceted problem.
"We need to build resilience in our communities, systems, and in our environment to adapt to a changing future," she explained. "And I feel very fortunate that the work Melbourne Water does is so targeted in this area.
"We're on track to achieve net zero carbon by 2030 through actively reducing our impact on our water, sewage, waterways and drainage management – and through the work we're doing to progressively green and cool the city," she said.
"Last year we created 30 hectares of shade through tree planting along our waterways and around wetlands. To put that into some perspective, that's about the size of almost seven Wembley Stadiums!"
Building resilience
Turning her thoughts to her ambitions for the future, Hannah shared that she recently found out a previous breast cancer diagnosis has sadly recurred.
"When something like this happens it really focuses your life – in so many ways. It's made me realise the passion I have for my work, so whatever my future holds, I plan to keep playing a strong role both in Australia and internationally to ensure our environment is resilient and can be preserved for biodiversity.
"If we can all work collectively towards the same goals, I believe real change can be achieved."
Find out more about Melbourne Water, or discover what it's like to study geography at Reading.