Reading Art student, Leah Rashid, and a team of Reading academics, have uncovered the story of female outdoor education pioneer, Eliza Chattaway, whose work more than a century ago paved the way for modern-day teaching and research at Reading.
As part of Women's History Month, CONNECTED takes a look at the story of Miss Chattaway and we speak to third-year Reading student, Leah, who rediscovered her story and who is working with a team of Reading academics to produce the first academic biography on the lecturer.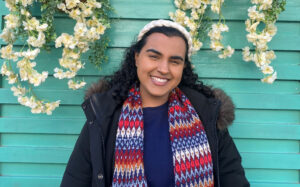 Leah's research was carried out through the Undergraduate Research Opportunities Programme (UROP), and was supervised by Dr Rhi Smith, Director of Academic Learning and Engagement in the University Museums and Special Collections Services. The project involved delving into the University's archives, which informed Leah's research and highlighted how Reading's Special Collections play an important role in revealing hidden local histories and boosting community participation in research.
Leah said: "I chose to research Miss Chattaway for my UROP project as I was extremely intrigued by the research of gender, education and outdoor learning in the Edwardian period. It was this fascination that led me to stumble across Miss Chattaway and all of her teachings."
Miss Chattaway's career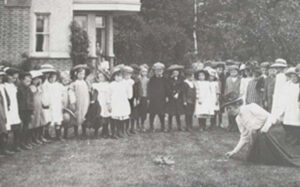 Miss Chattaway taught primary education at the University College of Reading – the precursor to the University of Reading – alongside her work as headteacher in local schools. She was a contemporary of Edith Morley at the University College, who was recognised as one of the first women professors in a British University."
Born in Wednesbury, Staffordshire in 1870, Miss Chattaway trained as a teacher as a teenager, going on to teach in Ely, Cambridgeshire, and Norwich, Norfolk, before accepting a position as headteacher at Redlands Primary School in Reading in 1895. She then became headteacher at Wokingham Road Infants school, now Alfred Sutton School, in 1913, where she worked until retirement in 1934. She moved to Bournemouth, Dorset, in 1939, where she spent the rest of her life.
Leah said: "It has been immensely inspiring to learn and research about Miss Chattaway and how she helped to shape young minds. It was not easy for a woman to have a career, yet alone a longstanding one of 40 years, in the early 1900s, however Miss Chattaway devoted her life to her students and to academia.
"Her most inspiring achievement, I think, is that she managed to become a headmistress at such a young age – 25 years old – which is still extremely impressive today. It was rare to see a young woman take on a senior role, and to maintain that role, in a highly-male dominated field."
Appreciating nature
Wanting to break away from the classroom and learning textbooks by rote, Miss Chattaway was inspired by the cycle of nature, as well as the agricultural education at the University College. Recognising the educational benefits of time spent outdoors, she would take her pupils on nature walks, including at what is now the University's Whiteknights campus.
Leah said: "Miss Chattaway changed the way infants were taught by making it engaging, creative and imaginative. This was a drastic change to the norm in the Edwardian period which involved long hours stuck indoors and memorizing textbooks.
"Miss Chattaway wanted children to get out into the fresh air, observe, and learn about the animals and plants around them. She was a pioneer for nature studies in her time."
Leah shared that the most interesting thing she discovered about Miss Chattaway was her book called 'School Nature Rambles' which was published in 1912. It was the story of a year at Redlands, documenting her nature walks and offering advice on nature lesson planning.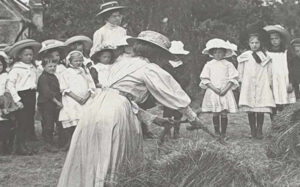 She said: "The book has a philosophical tone that guides the reader into a relaxed and meditated state of mind. I love the way the book echoes the voices of Miss Chattaway and her students; it gives us a glimpse of her personality through their discussions. I also really loved how she conducted her nature walks through local parks in Reading, getting children to stop, pause and observe the nature around them.
"Miss Chattaway was developing a generation who would prevent the destruction of nature in local areas, by teaching them the value of why we should look after and appreciate nature. This was so important, particularly just after World War One – Miss Chattaway was spreading light in a dark period. But the importance of looking after nature is even more vital now, in order to protect our planet from climate change.
"Remarkably, Miss Chattaway was teaching the importance of nature over 100 years ago when awareness of climate change was not as it is today.
"We should all take a leaf out of her book and start caring more for the nature and wildlife in our local areas, go on more nature walks and be present with nature."
A lasting legacy
Miss Chattaway's legacy lives on at Reading, both through the research into outdoor education that continues at the Institute of Education today, and the University's climate education work with local schools. And now, through Leah's research project, with the resulting biography on Miss Chattaway due to be published on the Berkshire Record Office website.
In addition, colleagues at the University's Museum of English Rural Life (MERL) are supporting Redlands Primary School to create a sensory garden inspired by Miss Chattaway's work. Resources allowing other schools to learn from Leah's research are also set to be added to the MERL's collections.
Discover more about the inspiring women researchers in the University of Reading community.