To celebrate Volunteering Week, CONNECTED is sharing the inspirational stories of some of our alumni who volunteer. Today, we hear from two alumni, Junxin Wang and Junyuan Shao, who have supported our student recruitment team in their work in China.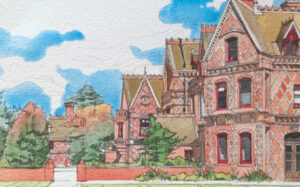 Alumni volunteers are hugely important to the University's student recruitment team, as they support student recruitment in a variety of ways – from sharing their time at Reading in articles, to attending careers fairs around the world, to speaking to prospective students. Hearing from alumni who have come to live and study at the University of Reading, and providing a unique insight into life here, plays a vital role in helping prospective students decide to study at Reading.
A Picture-Perfect Experience
Junxin Wang spent a year in Reading as part of an exchange with Xi'an University of Architecture and Technology, and while here he volunteered with the student recruitment team by drawing postcards of campus and writing articles.
Junxin said: "My year at Reading was unforgettable. I made many friends from all over the world and enjoyed hosting themed dinner parties with my flatmates. We had turkey and apple pie for American Thanksgiving, enjoyed dumplings for Chinese Spring Festival, had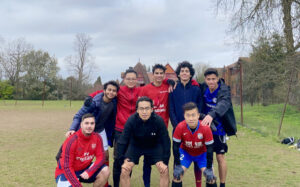 pasta from Italy and a traditional British Christmas dinner."
Sport played a big role in Junxin's time at Reading. He said: "I really like football and I met many friends from different countries when I played football at Reading. Even though we didn't know each other before, after two games of football we became good friends without talking much – maybe this is the charm of football.
"I also enjoyed cycling on the weekends, visiting surrounding towns and villages. The British countryside is so beautiful and you can see so many exquisite buildings while you cycle. I am fascinated by architecture and art, so would often stop to draw some architectural paintings. To me, cycling is more like a journey of exploration."
Junxin's love of art and architecture played a key part in his volunteering for the student recruitment team. He said:
"I designed pictures for the marketing team, for example for Chinese New Year, and edited videos. I also drew a set of watercolour postcards for the University, featuring nine beautiful landscapes and buildings from the various University of Reading campuses."
Vicky Li-Ong, Regional Manager for East Asia, who worked with Junxin during his volunteering, shared that Junxin's postcards are now given as gifts to the University's international partners.
Junxin said: "My time as a volunteer helped me meet lots of new friends and colleagues, and allowed me to do things I had never done before, such as writing articles about my time at Reading that have been shared on WeChat, as well as answering questions from prospective students. I really enjoyed my time at Reading, and was more than happy to recommend the University to prospective students in China. I highly recommend volunteering with the University to other alumni."
Advising Future Generations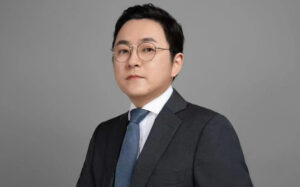 Junyuan Shao studied International Business and Economic Development in the Department of Economics at the University of Reading, graduating in 2005. Junyuan said: "It was a pleasant time, although it involved lots of hard work! Reading provided me with a peaceful and safe living environment, wonderful classmates from all around the world, and full support and guidance from my tutors. I still miss the University's marvellous Whiteknights campus."
Junyuan started volunteering with the University's student recruitment team thanks to a friend. He recalled: "One of my friends, a fellow University of Reading graduate, asked me whether I'd be interested in being interviewed for an article. I was more than happy to discuss my time living and studying in Reading, as well as talk about my career post-graduation.
"I was also pleased to be able to offer advice to prospective international students. My advice included reminding them that the Students' Union is there to support students and to ask for help and support from other students and lecturers, who are all kind and happy to help."
Vicky Li-Ong said: "Junyuan's article was published on the University's WeChat account last year, and helped greatly with engagement and conversion for student recruitment. We really appreciated him participating in the interview."
Junyuan added: "I really enjoyed sharing my good memories of my time at Reading, and it gave me great satisfaction to be able to support the future generation of Reading students."
If you have been inspired by Junxin and Junyuan's stories and are interested in supporting the student recruitment team, you can sign up to be an International Ambassador. If you'd like to volunteer in another way with the University, you can email our Alumni Volunteering Officer, Rachel Dean.