Once Reading, always Reading.
No matter whether you graduated last year, or 50 years ago, you're still a part of the University of Reading. To celebrate the 2023 Summer Graduations, we asked our alumni community to share their memories of their own graduation days.
Andy Orme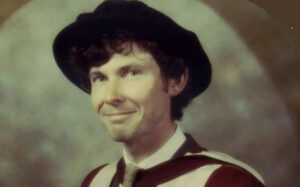 Andy, who researched for a PhD in freshwater ecology and graduated in 1983, shares his memories: "It was a long time ago. However, on the occasion of the graduation, the look of pleasure and pride on my parent's faces will be an enduring memory.
"I also remember that, immediately after my PhD's viva examination in April, I bought a bottle of iced champagne and swigged it all on the pavement outside the off-licence. My friends told me that my face wore a smile for the entirety of that wonderful day."
Judith Markham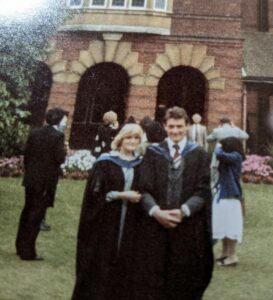 Judith, who studied Social Sciences and graduated in 1981, said: " I graduated with my husband-to-be in 1981. We met in 1979 and married in a small ceremony in 1994. We're still together now with six children and three grandchildren.
"We have many happy memories of being young students on campus. My husband read History and went on to work in procurement but is now retired. I read combined Social Sciences and I worked in the NHS in administration."
Grunsin Ayom
Grunsin, a graduate from 1977, shares his memories: "I was studying BSc Agricultural Economics and Management at the Faculty of Food and Agriculture, based at the Earley Gates side of campus from 1974-1977.
"I graduated in the summer of 1977 and I remember that the London Road Campus was crowded and the occasion felt like a carnival."
Amanda Honour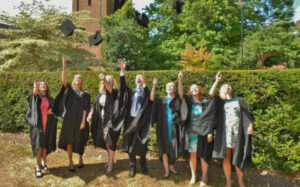 Amanda, a BSc Applied Ecology and Conservation graduate from 2015, recalled: "It was a wonderful day! 2015 – eight years ago, imagine!
"It went past in quite a speedy blur! I do remember having lovely large pitchers of Pimms in the sunshine on the lawns afterwards though, that was lovely – to see everyone with their families together celebrating.
"I ended up coming back and doing an MSc in Species Identification and Survey Skills because I didn't want to leave!"
Sarah Jenkins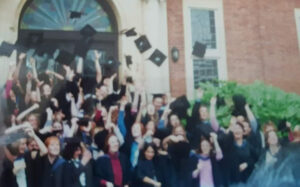 Sarah, a graduate from 2000, shares her memories: "I graduated from the BA Education in the year 2000. I have many happy memories of our Bulmershe days.
"My main memory of graduation is how special it was to graduate knowing nearly everyone else who was graduating in the same ceremony – as there were around 180 of us from Bulmershe primary education degrees all graduating together at the end of our four year course.
"The Bulmershe community was a special and unique community as we lived, studied and socialised together for four years.
"It was a very close-knit campus community and we had a party the night before graduation in 'Legends' the Bulmershe bar."
Gurinder Singh Purewal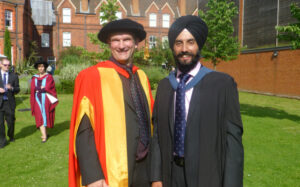 Gurinder, a Pharmacy graduate from 2012, said: "The best thing about graduation was celebrating alongside the staff – including my research supervisor, Dr Rachel Howard, and the Head of my School at the time, Professor Adrian Williams. I also got to celebrate alongside my three housemates, who I lived with for three years and we're still very close friends 10 years on."
Anne Day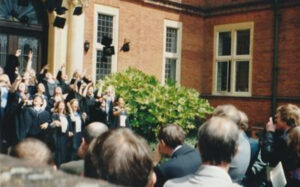 Anne, a Food Technology graduate from 1999, shares her memories: "I did four years at Reading. My graduation was a really warm day, perfect weather, and I was excited to be graduating with all my friends. As we'd been studying on a four year course, it felt very special, since we had been on a year's placement and come back as older students – I was 23 when I graduated.
"I just remember it being quite an achievement and how we all felt really proud and pleased. The "foodies" of 1999 were a close bunch, and over the last 24 years we've regularly met together, our last meeting was this year!
"Next year it'll be 25 years since we graduated, and we're hoping to get as many of us to the campus at some point to be together again. After graduation I worked for Marlow Foods (Quorn) for 2.5 years, then trained as a secondary teacher. But eventually (at 47 years) I am now a Methodist Minister based in Farnborough. I'm married with three teenage children."
Share your memories
We love to hear memories from our alumni community. If you have any memories you'd like to share from you time at Reading please email alumni@reading.ac.uk.