After realising that the course she had signed up for wasn't for her, Kori made the bold decision to drop out and move to another country to join a university where she would be happy – the University of Reading.
Kori, who graduated with a first-class BA in Graphic Communication just last year, shares with CONNECTED her experience of the clearing process, her memories of Reading and what tips she has for anyone else considering clearing.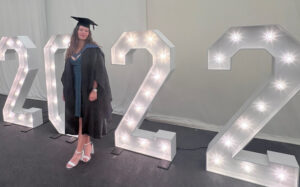 Kori had no plans of going through clearing. She received the results she needed and had already joined the initial university of her choice. However, she quickly realised that the course was not for her and decided to make a change.
She explained: "I decided to drop out of that particular university and find a course that would make me happy. Since the normal admission process had already closed, I waited for clearing to come around."
The cherry on top
Once clearing opened, Kori quickly began applying for universities.
She said: "During clearing there were about 15 universities that I applied to. I was worried I wouldn't get in, so I decided to just apply to every place that had my course and was in the south of England. Only five got back to me including Reading."
She read up on her five options and began narrowing down her choices. Kori explained: "One of the selling points for Reading was that the course was very hands-on. That was a huge priority for me as I find practical learning more impactful than just theory.
"I'm also an athlete so I need to train regularly and the sports facilities and the variety of sports at Reading were another bonus. But, the cherry on top for me personally was that Reading is close to Heathrow. As an international student I could go home, to Poland, to see my family every break and not have to spend hours travelling to an airport. So this was very important to me."
The highlights
Although she applied for her place just two weeks before the start of term, Kori was able to start alongside the rest of her cohort.
She said: "I found the clearing experience very straightforward. I received my acceptance letter about a week after applying and I moved across Europe in the next few days to start my course.
"The lecturers were the real highlights of my course. They were so attentive and always there to help you when you needed them and would always provide extra feedback."
For Kori it wasn't just changing courses that was the right decision for her but finding the right campus.
She explained: "Halls were great because it was so easy having everything you need so close – being able to walk to classes, to my sport training, to the Union and the Park Bar. Some of my friends who studied in other cities across the UK had to go all around town in order to do those things."
For anyone who has found a place at Reading through clearing, Kori wants to remind them that securing a place via that route doesn't make a difference to your university experience.
She said: "Try not to worry. I was really excited when I found out I had a place at Reading. I had a great time and met so many people who also found their place at Reading through clearing."
Find out more about the clearing process at Reading, or if you joined Reading through clearing then tell us your story.