The Undergraduate Research Opportunities Programme (UROP) has been running at Reading for over a decade. It is a success story that we are particularly proud of, and one that, this year, has donors to thank for its expansion, many of whom are alumni.
UROP is an internship programme giving undergraduate students the opportunity to work during the summer holidays on research projects. It offers students the chance to gain hands-on experience on projects covering all disciplines across University, and to develop their transferable skills, employability and understanding of the research environment.
A chance to try research
Tom McCann, Projects Manager at the University's Careers Service, runs UROP at the University. He explained the programme's rationale: "Ask any academic how they got started in their field, how they first broke into research, and there's a good chance they'll say that someone, at some point, let them have a go. UROP is perfect for those who want to try their hand at research – to discover what it's about and how it's done, by working on a real research project in a real research environment." 
By expanding the boundaries of knowledge, research can help address some of the most important challenges of our time, as researchers explore ways to tackle the biggest issues facing our planet. 
At Reading, their work spans a vast array of subjects, its outputs shaping and influencing culture, policy, health, business and the environment around us. UROP, designed to encourage undergraduates to consider careers in research, is essential to its future. 
Life-changing
Tom shares how UROP can be life-changing: "We had an Arts and History undergraduate who was unsure of their next steps after completing their degree. But having done a UROP project, they are now going on to do a master's degree.
"Many students like them will look back years or decades from now and see UROP as the experience that set the course of their working lives. Who knows what advances these future researchers will make, and how they will impact individuals, local communities, and even the world as a whole?"
Last summer, donor funding enabled 10 additional UROP projects to go ahead which would have otherwise been impossible. This enabled more opportunities for undergraduates to do research which would not normally form a part of their course; a broader spread of research undertaken, and a larger number of students going on to pursue research as a career. 
Here are some of these additional projects which were only made possible through donor funding.
Musicianship for teachers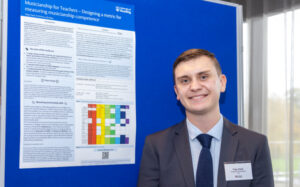 Toby Clark, a Year 2 Primary Education and Music undergraduate, conducted research with Dr Rebecca Berkley, Associate Professor in Music Education. Their research focused on measuring the impact of classroom musicianship training for novice musician trainee teachers in helping to improve their confidence in teaching primary level music. 
Toby said, "Dr Berkley has been amazing and she was a really supportive supervisor. She was always checking in and was very open to flexible working which was realistic for the project's needs." 
Through his UROP programme Toby made new key contacts in his field and attended teaching conferences, teaching opportunities and field trips. "Speaking to professionals in my area of study has solidified my passion for postgraduate study and was instrumental in my winning a Fulbright Scholarship to America," he observed. 
Role of abrupt changes in North Atlantic Ocean temperature on future changes to West African Precipitation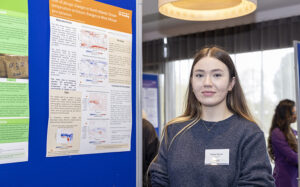 Shelby Mantle, a Year 2 Geography undergraduate, worked with Paul-Arthur Monerie, Postdoctoral Research Assistant in Meteorology and Tillys Petit, Research Scientist in Meteorology. They investigated whether uncertainties in North Atlantic sea surface temperatures can drive uncertainties in precipitation changes in Africa's Sahel region. 
Shelby's UROP internship helped her develop her Python coding skills and gain a deeper understanding of her field and of research environments. 
"It was enjoyable and lively with interactive sessions about what I have learned and what we planned to do. Overall, really fun and it far exceeded my expectations. I couldn't have asked for better supervisors," she commented. 
Regenerative agriculture practices and their effect on belowground biodiversity and soil fertility in UK arable farms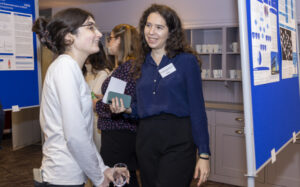 Chrysanthi Andriani Economou, a Year 2 Zoology undergraduate, worked with Dr Amelia Hood, Postdoctoral Research Assistant in the School of Agriculture, Policy and Development. They tested whether regenerative farms (those employing sustainable methods which can improve soil ecology and underground biodiversity) are better than conventional farms at promoting beneficial biodiversity. 
Chrysanthi extended her knowledge and experience of research, including learning new analysis techniques. She found the opportunity to work in a lab valuable – socially as well as in research terms.
She said: "I really enjoyed meeting the lab members from this department and having the ability to have lunch and socialise with them."
Find out more about the UROP programme, or discover more about the University of Reading's fundraising projects.