CONNECTED speaks to Reading graduate and Co-Chair of the University of Reading BAME+ Allies staff network, Aleiah Potter, about Black History Month being a starting point for ongoing action and the importance of safe spaces and dedicated platforms for unheard voices. 
Every October is Black History Month – a time to celebrate the history, achievements and contributions of Black people across our communities. This year's theme – 'Saluting our Sisters' – acknowledged and highlighted Black women who have had their contributions ignored, ideas appropriated, and voices silenced throughout history.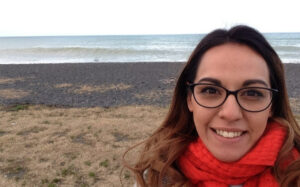 For the BAME+ Allies (Black, Asian and Minority Ethnic) staff network, Black History Month is an important annual moment that not only represents those who are Black in the community, but also brings to the forefront discussions around racial inequity and provides an opportunity to discuss equality building. Co-Chair of the network and University of Reading Head of Events, Aleiah Potter, said:
"What we're hoping to do within the network is activate some ally-ship and provide some educational tools – which national and international observations like Black History Month help with."
Something for everyone
As one of the newer networks at the University – founded in 2020, and impacted heavily by lockdown – 2023 has been pivotal for building support for the network and providing Black History Month events which haven't been possible in previous years.
Aleiah said: "This year we created a rich and diverse range of events. We've worked hard to raise awareness, drive support and secure allocated and dedicated resources to help build on an ever-growing programme. This year-on-year commitment has formed the largest collective and collaborative schedule of events and activities we've had to date. We're really proud of it.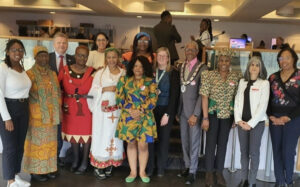 "For me – it was important that there was something for everybody; whether it was a film screening, a book you can read in your own time, a lecture, or just a drop-in café session where you can meet different people. We hope the range of events generated awareness and action and ignited some advocacy in everyone. And hopefully that goes beyond just October.
"This year's programme involved the Reading Students' Union, local community groups, the BAME+ Allies and some of our University Schools and Departments. We also have a range of relationships with other University staff networks and external organisations such as Royal Berkshire Hospital and Thames Water. We want to collaborate and build a wider connection outside of the University to help serve our communities better but also to help solve shared problems together."
While October provides an opportunity to highlight the untold histories and unheard voices of Black people across the UK and globally, the network hopes that it is just the starting point for future work.
Aleiah said: "We try to make sure that Black History Month has a dedicated and annual footing to live up to our social values as a University, but the next step is making sure that activism is awake throughout the whole year.
"One of the main messages we try to send out from the initiatives, coverage, and events we run is the ethos that Black History Month is more than just a month."
A safe space
Providing a space for marginalised voices is a priority all year round. Aleiah said: "We're trying to listen openly to the needs of the network, but to do that you need to be able to create a space where the underrepresented feel they can express themselves and be listened to.

For Aleiah, a stepping stone to building racial equality in the community is enabling people to feel that they can be their authentic selves at work.
She said: "I want people to feel like they don't have to conform to exclusionary behaviours that surround them because they fear being singled out for it. Unfortunately this is still an everyday experience for a lot of people."
And she understands herself what it can feel like to be singled out. Aleiah explained:
"I'm Māori. I'm from a tiny indigenous culture. I'm also a migrant. I don't have many people who I can connect with who understand my heritage, its intricacies and histories, specifically here in the UK. When I was younger I was teased because of my accent, so I changed it, which is why I now have a strong British Southern accent. I now feel like I've lost part of myself because I don't have my accent, but it was mainly because of bullying and my experiences of exclusionary behaviours as a child.
"During my time working at the University of Reading I had the opportunity to go on the Stellar HE course which was transformative for me – they don't run it anymore but they do run the Diversifying Leadership course which is similar and supports BAME colleagues.
"Although it was painful to relive my experiences, it was also quite liberating. I came out of the course with a real understanding of how my traumas have affected me, my career and my school-life. This course kickstarted my desire to be part of the BAME+ Allies network, and to share my lived experience and migration.
"Through the BAME+ Allies network I hope to help advocate for others, I don't want others to feel that they have to change their accents, act differently, or bring different foods in at lunchtime simply to conform and protect themselves from microaggressions. And, if they feel like they do, then I'd like for the network to be a safe space they can come to and where people will support them."
However, supporting those in the BAME community isn't just the responsibility of the network. Aleiah said:
"It's our collective role, everywhere, to educate ourselves on how these experiences can happen and how they can affect people. Everyone needs to notice these events and, to go further than that, standing up in those moments for those who may be systemically overlooked or excluded, mainly because of their race, heritage or background.
 "And how can we start doing things in our everyday lives going forward?"
Moving forward
Aleiah plans to continue building on the successes of the network. She said: "We'll keep responding to the needs of our BAME colleagues and students, and wherever possible build more intersectional opportunities, and progressive training programmes for allies and advocates.
"Ally-ship is an active role and relies on our supporters doing some of their own learning. That can include reading a book, listening to a podcast, watching a TED Talk, or coming to an event. It's important to be open to learning about privileges but being wary of leaning on BAME friends and colleagues to help you through the journey to anti-racism.
"It can be difficult but we need to have conversations about race and we've got to learn to sit in the uncomfortable space of it all, so that we can help everyone to live free from discrimination."
The network also plans to launch a new mentorship scheme in January 2024 which will pair up mentors and mentees, who can provide tailored BAME connections, stories and advice. The aim is to provide BAME colleagues with better support from advocates and those who understand lived experiences, racial harassment, and exclusionary behaviours.
Aleiah explained: "One of the biggest things that comes up in the network, and which also surfaced in the University's Race Equality Review, is around career progression and career development."
The network has been running successful career progression talks consecutively for two years now. Aleiah said: "We try to make sure there's a range of speakers from academics to various professional services, with a balance of gender, race and heritage.
"Speakers are mainly people from the BAME community but some are our really active allies and white counterparts who have got involved in supporting us."
The mentorship scheme plans to support the wider community as well as those within the BAME network. If you would be interested in volunteering your time as a mentor or would like to provide a talk for the BAME network careers progression series please contact bame.network@reading.ac.uk.