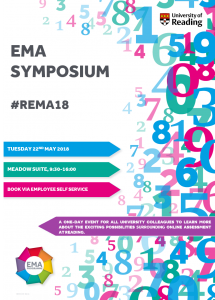 We are delighted to announce that the EMA programme is hosting a one-day EMA Symposium on online assessment for University of Reading colleagues on Tuesday 22nd May in the Meadow Suite at Park House.
The Symposium will gather together an exciting range of colleagues to share good practice surrounding electronic submission, feedback and grading, and the use of new assessment data, with both academic and non-academic staff. The day will be invaluable for sharing information and for passing on knowledge!
In the morning we'll be looking at online marking for inexperienced users, a TEL led demonstration for new users, an open Q&A on assessment, disability and inclusivity, the use of marking tools for more advanced users, using new RISIS data to support pastoral care and making the very most of rubrics. In the afternoon we'll be looking at dashboards and learning analytics, online assessment and the experience of support centres, change and impact in Early Adopter schools, how to get the most out of QuickMarks and a roundtable focused on policy, process, pedagogy and technology.
We're focusing on both experienced colleagues as well as those who are completely new to this area and are unsure what online assessment and new data availability can deliver for either themselves or their students.
The event will run from 09:15 to 16:00 but colleagues can sign up for just the morning session (09:30 to 13:00 including lunch), the afternoon session (12:15 to 16:00 including lunch) or join us for the whole day!
The Symposium is fully catered with tea, coffee and a full vegetarian lunch (12:15-13:00).
Please note that, due to the size of the venues we are using, places are limited. We hope to see a packed house of interested University of Reading colleagues!
Please sign up via Employee Self Service. For the morning session click here, and for the afternoon
click here. If you wish to attend the full day, please sign up for both.
Attendees can also follow event news and contribute at #REMA18.
For further questions please contact Emma Mayhew (e.a.mayhew@reading.ac.uk) or Maddi Davies (m.k.davies@reading.ac.uk). We look forward to welcoming you on 22nd May!