To ensure that the activity of the programme represented the needs of the University, the EMA Programme adopted a collaborative approach. Integral to the delivery team were colleagues from existing University of Reading teams, such as Student Services, Exams, ADE and TEL (Technology Enhanced Learning), as well as our Academic and Graduate Partners.
The EMA Programme was committed to embedding University knowledge into how it delivered, and to aid this,7 Academic Partners were helping to guide the design of solutions. The Academic Partners worked with us on a part-time basis alongside their existing teaching, research and administrative roles, and in most cases work within the team as representatives of the entire academic community and not just their respective schools. A key part of this role was maintaining ongoing and extensive liaison, support and communication with the academic community, providing an "end-user" perspective of solutions, and contributing to case studies, news and events. Each partner also worked on key special projects to further build on the benefits of the EMA programme.
The 7 partners were recruited as part of a process undertaken by the Academic Director,
Professor Emma Mayhew:
"It was esse
ntial that EMA engaged with academic colleagues and encouraged active participation throughout the course of the Programme. We've used a broad range of different approaches from large scale events, school meetings, appointing academic representatives throughout our governance structures, all the way to webinars and stalls but we decided right at the start that we would set aside some of our budget to support the appointment of seconded academic colleagues. This would allow colleagues to manage their workloads and for the Programme to draw on support from across academic disciplines as well as benefiting from the capacity to undertake a range of small project work by lecturers who are highly experienced users of online assessment."
Academic Partners:
Dr D
avid Nutt
David is an Associate Professor in Physical Chemistry and School e-Learning Co-ordinator.
While providing crucial insights and guidance for the Programme, David led a project to focus on offline marking and the use of appropriate technology. This involved understanding existing challenges and requirements across discipline areas, engagement with institutions across the sector to understand the current landscape and exploration of a range of options.
David also led on a second project focused on large file submission. This involved understanding existing challenges and requirements across discipline areas within Reading, engagement with institutions across the sector to understand current approaches and exploration of a range of potential options.
S
vetlana Mazhurnaya:
Svetlana is a Teaching Fellow on the Pre-sessional Programme and a member of the Assessment Team at International Study and Language Institute.
Svetlana led on a project focused on enhanced collection and effective reporting of granular, criteria level marks within HBS. This involved understanding existing assessment practices across the School and developing a set of high level requirements. Svetlana worked alongside HBS to develop an acceptable approach for 2018-2019 as well as plan for the dissemination of project findings across the institution.
We asked Svetlana what she felt the benefits were regarding EMA: "I believe that using the university e-assessment tools has been of great benefit to International students I have taught on the Pre-sessional and IFP programmes because it is a great chance for them to become familiar with academic expectations and assessment practices on the UG and PG programmes they are about to join. As a tutor I have found e-submission and marking tools extremely helpful in reducing the admin workload and delivering timely feedback to my students."
Dr 
Geoff Taggart
Geoff is a Director for the Postgraduate Certificate in Early Years Practice, Personal Tutor and Lecturer at the Institute of Education.
Geoff led on a project focused on the provision of a School wide rubric solution within the Institute of Education. This involved understanding existing challenges and requirements within the School and exploring a range of potential options with key stakeholders, including the TEL team. He also worked with the Project Manager, Academic Director and other key stakeholders, to contribute to key supporting materials such as the potential development of an institution wide rubrics library or the development of a Quickmarks bank.
Pila
r Gray-Carlos
Pilar was a Lecturer and Institution Wide Language Programme Coordinator for the International Study and Language Institute.
Pilar helped to explore and provide feedback from the user community on the potential impact of any changes to policy and practice prior to full roll out. Part of the Pilar's role on the Programme was to contribute to case studies and support ongoing communications.
Pilar shared with us her thoughts on EMA: "Two quick ways in which my life has been made easier as a lecturer and module convenor: my office is tidier as I don't have to chase pieces of paper around and my colleagues and I have had quicker and easier access to student's work to mark and moderate. Electronic submission of assessment provides students with greater consistency of approach, a unique point of reference for instructions, feedback and any time access to results. In my opinion it has proved an invaluable resource in terms of transparency and time saving for both students and staff. It is still early days but I am looking forward to using more of the available features, exploring portfolios and other means of assessment and sharing them with colleagues to enhance our practice."
Dr M
adeleine Davies
Maddi is a lecturer in the Department of English Literature. She was School Senior Tutor (SLL), Chair of the Senior Tutor's Community of Practice and is a University Teaching Fellow.
Maddi worked on a number of different initiatives, specifically around input into the design and functionality of a new suite of academic reports covering sub modular assessment, modular marks, cohort placing and other mid-year reporting required by academics. She also explored the impact of key tools, new business processes and communication methods around the academic staff experience.
We asked Maddi about her experience using EMA: "I'm using electronic assessment and feedback for the first time this term. It's a learning curve for me because I'm not a tech 'natural', but I can already see that the system is going to be less fiddly and less time-consuming when it comes to essay submission and marking. I'm using Learning Journals and, having just set them up, I can see that I'm going to be able to monitor student's engagement more easily, respond immediately to any problems, and provide more detailed feedback. Meeting the 15-day turnaround is going to be less of a challenge than it has been in the past. Everything I'm learning about EMA suggests I'm going to be operating a far more streamlined system on my modules, and this is going to free me up to focus on the really interesting aspects of teaching and learning delivery."
Dr 
Yota Dimitriadi
Yota is a Course Leader for Secondary Computer Science, Senior Fellow of the HEA, Academic Advisor to the Disability Officer and Executive coach for the Institute of Education.
Yota led a project focused on online portfolio submission and external moderation. This involved understanding existing challenges and requirements across disciplinary areas within Reading, engagement with internal colleagues who act as external examiners for other providers and colleagues who act as external examiners for Reading. She will developed a set of high level requirements, explored potential solutions being used elsewhere and worked alongside Early Adopter Schools to develop an approach for 2017-2018.
Edwa
rd Collins
Ed is a Teaching Fellow in Marketing and Lecturer for the School of Agriculture Policy & Development.
Ed was working as a representative of the EMA Programme within the School of Agriculture, Policy and Development (APD) and as a first point of contact for help and support. This included working with colleagues within the School to support successful transition to online marking and feedback. This included supporting the development of training material by feeding back APD experiences. This work helped to guide the programme when it moved to the wider roll out in 2018-2019.
He shared with us his thoughts on EMA: "Over the past few years I have experimented with electronic assessment and feedback. I have had both good and not so good experiences in implementing these strategies. For me the EMA is an excellent opportunity to work with people across the University in discovering and adopting strategies that enable new ways to deliver assessment and feedback in the most effective way that will benefit both the staff and student experiences."
Professor Richard Mitchell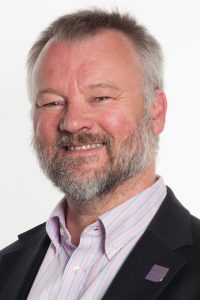 Richard Mitchell is Professor of Cybernetics in Computer Science and Directory of Technology and Enhanced Learning in Mathematical, Physical and Computational Sciences.
Richard's project within EMA was to look at 'special notation', which included any submission which is more than normal 'text' including mathematics, hieroglyphics and characters such as Arabic, Chinese or Japanese. Some of this work is written by hand and so submitted physically rather than electronic and whilst some could be scanned and submitted it can often be easier to mark by hand. The project was looking at whether alternatives to handwritten submission are possible and desirable, considering some online systems and better ways of marking such work.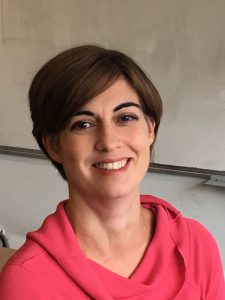 Daniela Standen
Daniela is a Lecturer and Language Coordinator in the Institution Wide Language Programme for the International Study and Language Institute.
Daniela has a keen interest in data and was therefore researching the benefits that the EMA Programme is delivering to the University, particularly in terms of impact on time and quality for professional services. Daniela was a member of the work stream board that delivered the Student Progress Dashboard. She was working on collaboration between academics and professional services to implement Blackboard Organisation for External Examiners and Blackboard Tests analysis tools.
Daniela shared with us her thoughts on EMA: "For me the main benefit of EMA has been improvement in the availability and quality of data. As exam officer, I often need to look at the big picture across the department. The availability of sub-modular marks through Blackboard and RISIS has made a huge difference to the speed and accuracy with which I can access this data. As a module convenor of a number of modules I have found that the analysis tools in Blackboard tests are helping me understand both my students' needs and improve the quality of my assessment."
Technology Enhanced Learning:
The University's Technology Enhanced Learning (TEL) team within the Centre for Quality Support and Development support the effective use of technology to enhance learning, teaching, assessment and feedback. The team was closely involved with the EMA Programme, and has an integral role in supporting electronic submission, feedback and grading across the University.
As well as designing effective approaches to using the University's online assessment tools, team members also worked with each individual School to support transition to new approaches.   The TEL team are largely responsible for staff development and training for academic and support staff, and the development of resources to support both staff and students.
TEL staff also advised a number of the Programme's governance boards, with Vicki Holmes (Head of TEL) as Chair of the eSubmission, Feedback and Grading (eSFG) and Data Workstream Board.
Academic Development and Enhancement:
The Academic Development and Enhancement (ADE) team within CQSD informs and supports evidenced and creative approaches to teaching and learning.  They deliver accredited modules through the Academic Practice Programme and the Continuing Professional Development scheme supports experienced colleagues seeking professional recognition. Besides this provision, a regular programme of seminars and workshops is scheduled throughout the year.  They also offer bespoke consultancy to Schools on teaching and learning related matters.
The team is currently involved in embedding the Curriculum Framework – a key strategic priority for the university which aims to ensure the design and delivery of cohesive programmes.
The ADE team was involved with the EMA Programme with ADE staff advising on the eSubmission, Feedback and Grading (eSFG) workstream and the Supporting Change workstream.
SIS:
The SIS team was a key partner of the EMA Programme in supporting the move towards recording sub modular marks on RISIS across the university. As well as advising on the Core Systems Workstream Board, SIS staff were involved in developing and testing new processes and reporting in RISIS. The EMA Core Systems Team worked closely with the SIS staff at all stages of the processes ensuring engagement with existing and related processes. Representatives sat on the weekly Team Project meetings providing their expertise and advice as well as completing the necessary actions and investigations required.
IT:
The IT team were another key partner. As well as advising on a number of the Programme's governance boards, IT staff were largely responsible for integration. The EMA Project Team worked closely with the Middleware and TEL AV teams to scope out the options for integration. Representatives sat on the weekly Project Checkpoint meetings alongside the EMA team, providing expertise and advice as well as completing the necessary actions and investigations required to scope the integration.
Over Summer 2017 the EMA Programme recruited three Graduate Partners, joining the team to provide vital student insight and champion the interests of the student body within all Programme activity.
Working across each of the Programme work-streams, the Graduate Partner team were dedicated to ensuring that EMA has an consistent student voice, looking to gain informed perspectives from existing students at every opportunity and contributing valuable insight from their own experiences as University of Reading students.
Graduate Partners:
J
ack Lambert-Taylor, MRes French Literature and Philosophy
Jack first came to Reading as a student back in 2011, and has since completed two degrees at the university (Undergraduate & Postgraduate), as well as working as a Programme Administrator within the Institute of Education. Specialising in communications, Jack worked predominantly within the Supporting Change for EMA work stream, with a focus on managing engagement with the Programme.
Sara
h Craig, BA Hons Philosophy & English Literature
Sarah joined the university in 2014, studying Philosophy & English Literature within the School of Humanities. Graduating in July 2017, Sarah came straight into her role with the EMA Programme, bringing her vital & contemporary experience as a recent student to the team. Sarah used the experience she gained with the Programme to move into a role in the communications sector.
Yara
 El Gowhary, BSc Human & Physical Geography
Like Sarah, Yara came straight into her role with the EMA Programme following her graduation in July 2017. Studying Human & Physical Geography within the School of Archaeology, Geography & Environmental Science (SAGES), Yara had first-hand experience as a student within one of the Programme's two early-adopter schools, making her insight invaluable. As a result, Yara worked predominantly within the eSFG (electronic Submission, Feedback & Grading) work stream, and has since made the most of her experience, moving into a Business Analyst role outside the University.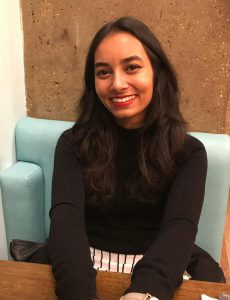 Wafa Islam, BSc Psychology and Language Sciences
Wafa graduated from Reading in 2018, coming straight into her role with the EMA Programme and bringing her entrepreneurial experience from the University of Reading Enactus society. She already had data analysis experience from studying Language Science and Psychology, and used this knowledge to contribute to the work of the Programme's Business Analysts.