One of the world's most pioneering polar explorers, Felicity Aston MBE, was awarded the Queen's Polar Medal in 2015.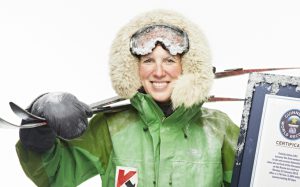 The University of Reading alumna spoke to CONNECTED in 2017 about breaking the mould in a male-dominated field, and claiming her place in the history and record books. In this article, we revisit her fascinating interview and discover what new challenges she's undertaken since then.  
In 2012, Felicity entered the record books for being the first woman in the world to ski solo across Antarctica, as well as the first person to finish the 1,744km trek using just muscle power alone. 
Ever since completing her MSc in Meteorology at the University of Reading, Felicity has made it her mission to explore the world's coldest corners and great wildernesses.
The Women's Euro-Arabian North Pole Expedition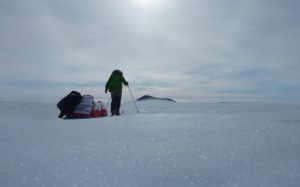 Since we last spoke to Felicity, she has led an international team of women from across Europe and the Middle East in skiing the last degree to the North Pole. As well as the considerable physical challenges that they faced, a key aim of the expedition was to foster greater dialogue and understanding between women from Western and Arabian cultures. 
After two years of training, the team finally departed for the Arctic Ocean on 14 April 2018 and reached the Geographic North Pole after seven days of skiing. The team were accompanied by a three-woman film crew and the resulting feature length film Exposure is due for release in 2020.
Shattering gender stereotypes
Although Felicity says "discrimination is not a motivation", shattering gender stereotypes and breaking down barriers is an enduring theme in her expeditions.
Her first job after completing her studies at Reading was a senior meteorologist with the British Antarctic Survey (BAS), an early career choice that led to the then 23-year old becoming part of a very small minority. She was one of only three women in an isolated community of 22 people working and living year-round on the Antarctic Peninsula. She concedes to having felt a need to prove herself physically.
She said: "It was a strange environment, but I think it was tough on the guys too. Most of them had never been in an all-male or largely all-male environment either." She added: "I am quite a tall, well-built woman and I can dig snow and lift quite heavy stuff, so I made a point of playing my part if ever there was a fuel drum to be hefted around or manual work to be done.
"The sooner we get used to the idea of looking to what a person can do as an individual, regardless of preconceptions around their ethnicity or gender, the better for everyone."
When it comes to seeking knowledge about the world and about each other, Felicity believes there is no better place than the sub-zero surroundings of the top or bottom of the world.
"It strips away all those things that we surround ourselves with, things which we think make up who we are – our job, our car, our clothes.
"When you're in a tent eating the same food, wearing the same clothes and facing the same challenges together every day, you really get to the heart of who people are."
When explaining her initial conversion to the cold, Felicity attributes it to her time at Reading. "My dissertation at Reading was about the Antarctic Peninsula; it was one of the few places at the time that was showing the greatest sign of climate change that couldn't easily be explained and it pointed towards something that could not just be written off as a natural cause or the natural rhythm of the planet."
She has become a passionate advocate for promoting awareness and understanding about the polar world and climate change. And as one of only three pupils to have studied physics in an all-girls school, Felicity is keen to broaden the appeal of a STEM education to students. She has spoken at schools up and down the country sharing tales of her adventures, running workshops and inspiring future explorers to take care of the world's most magnificent environments.   
As well as talking in schools, our modern-day explorer shares stories of her adventures to diverse audiences around world, from corporates and exploration conferences to women's groups and theatre tours. She has also written three highly acclaimed books about her experiences in some of the coldest places in the world, Chasing Winter, Alone In Antarctica and Call Of The White. A chapter from Alone in Antarctica was included in Wild Women, a new collection of travel adventures edited by Mariella Frostrup.
Speaking about her responsibility as a role model for other women, Felicity said:
"I am conscious of the message sent out from what I do and hope that other women are encouraged to follow after. I also hope that some of the things I have done highlight that it is not unusual for a women to ski to the South Pole or be involved in hard adventure."
Some of Felicity's recent adventures have seen her thaw off and venture beyond the poles. This year she has hunted for basking sharks in the Hebrides, braved Siberia in the summer, explored the tiny Himalayan region of Zanskar and been trekking in Ethiopia. 
Felicity's appetite for adventure shows no signs of abating and the exploration community continue to benefit from her profound enthusiasm, expertise and search for answers. The University of Reading were incredibly proud to present Felicity with the Alumnus of the Year Award in 2017 for her outstanding achievements.
Find out more about Felicity's adventures.