"It's purely down to the University – and donors like you – that I've been able to complete my degree."
Powerful words from any graduate, but this testament to the impact of our donors generosity is all the more compelling because it comes from Olympic hopeful, Mathilda.
With a string of world championship and cup accolades and an intense training schedule, Mathilda is no stranger to hard work and determination. But the GB Senior Women's squad member faced a "massive challenge" in pursuing a degree in chemistry alongside her rowing.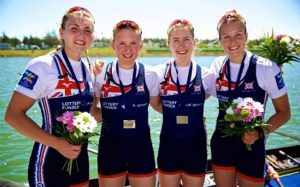 As well as juggling lab work and assignments, the intense training schedule needed to represent your country at the highest levels saw Mathilda on the water at least three times a day. Even taking her end-of-year exams could be problematic, as the summer term coincides with the competition season and Mathilda was often out of the country representing Great Britain.
Unsurprisingly, there was no time for the part-time work that many students undertake to support themselves.
As government loans fail to keep pace with rising costs of living – and with the expenses associated with training and competitions – many athletes struggle to overcome these financial difficulties to pursue a degree.
Thankfully, generous support from our donors funded a sports scholarship and a grant from the Student Support Fund, which – along with her determination – helped Mathilda across the undergraduate finish line.
Speaking before she graduated last month, she said: "The Department and Student Services have been incredible. They said 'it's fine, we've got your back'.
"I don't think there are any other universities that support athletes like Reading has. I'm very aware of how lucky I have been."
While it has been challenging, Mathilda says her studies have also helped her rowing.
"It's been great to do my degree as I think it helps me to balance more. It brings perspective. I know I'm working towards another job, which enables me to take the pressure off and perform better. I don't think 'do this, or you have nothing.'"
Her sights are now firmly set on qualification for the 2020 Olympic Games in Tokyo, but longer term she hopes to complete a PhD and pursue a research career in forensics.
Find out more about other elite athletes who have attended Reading in our Alumni Sports Hall of Fame.