This year's Reading Thames Festival explored climate change through an outdoor art installation on campus.
Reading's annual cross-arts programme, Reading Thames Festival, presents work from across music, performance, literature, popular culture, design and the visual arts. This year's festival included Never Closer To Midnight, a meditative outdoor live art installation that explored feelings of urgency in the face of climate change.
Artist, Janine Harrington, is behind the installation which took place on 26 September at Whiteknights campus. The installation also featured as part of Art After Dark, a one night event that presented art and performances in public spaces.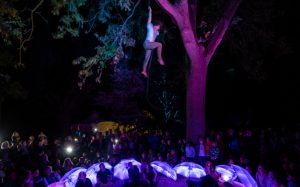 The festival, which is now in its third year, takes place from 26-29 September across Reading's cultural, unusual and outdoor spaces, and aims to create exhilarating audience experiences and unexpected encounters. This year, the programme looks to the changing tides of the Thames itself, addressing the themes of deception, change and transformation, exploring how music, performance and the arts can bring people together in times of social unrest.
Reading Thames Festival is part of the Reading Great Places programme, a partnership between the University, Reading UK CIC and Reading Borough Council, who were successful in securing a three-year funding package from a new alliance between Heritage Lottery Fund, Historic England and Arts Council called Great Places, a pilot scheme designed to enable cultural and community groups to work more closely together.
Find out more about Reading Thames Festival.