University of Reading Professor of Ecology, Mark Fellowes, describes a life-changing field course to the Amazon rainforest and The Galapagos Islands. 
It is fair to say that the student experience has evolved over the course of the last ninety years at Reading. From the subjects available to study to what it means to live, work and thrive in a global higher education environment; the opportunities today are almost endless.
At Reading we have always believed in providing unique opportunities to learn, and as a result, today's students get the chance to immerse themselves in their chosen subjects in ways that might have seemed unimaginable for those who graduated decades earlier.
Life-changing opportunities
Imagine swimming with sea lions and seeing some of the world's rarest species first-hand. This once in a lifetime experience forms part of an incredible Tropical Biology Field Course, led by Professor of Ecology, Mark Fellowes, here at Reading.
In previous years trips have taken place in Madagascar and Borneo, but for the first time in 2017, the group journeyed to the Ecuadorian Amazon and the Galapagos Islands. Described by UNESCO as a unique "living museum and showcase of evolution", the Galapagos Islands are brimming with a huge range of marine, animal and bird species.
An Amazonian adventure
The Tropical Biology Field Course allows students to witness the impact of humans on biodiversity and on the planet first-hand. "It's difficult to explain just how lucky we are to be able to see species as iconic as anacondas, sloths, river dolphins, marine iguanas, giant tortoises and Darwin's finches in the space of a couple of weeks," says Professor Fellowes.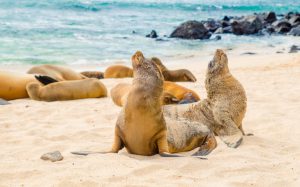 For the first part of the trip, the group stays in the Amazon spending time with the local community and observing how they interact with the wildlife and biodiversity around them.
As Professor Fellowes remarks: "The Amazon is a lush tropical rainforest. For me it's about the birds, but most people love seeing different primates like spider monkeys, howler monkeys and pygmy marmosets, the smallest true monkey.
"We then go from that very wet tropical rainforest and travel to the arid Galapagos. These volcanic islands are laboratories for evolution, with the majority of species found nowhere else on earth and many differing from island to island. Last year we were snorkelling in the ocean, and came across 50 or 60 giant manta rays. Some of us went into swim with them, it was just an incredible experience.
"These are the kinds of things you can't predict will happen, but we're never disappointed by wildlife on the Tropical Biology Field Course."
Biodiversity on campus
Field work isn't restricted to the tropics – other field courses at Reading involve visits to sites in the UK, Spain and Sweden and students have worked in places as varied as Malaysia, South Africa and the Caribbean for their final year projects.
Back in Reading, teaching involves using the biodiverse campus as a field site and outdoor laboratory, with students learning to identify and survey birds, mammals and invertebrates. The campus has prestigious Green Flag status and is home to a large lake, woodlands, meadows and the Harris Garden with foxes, deer, hedgehogs and owls amongst its inhabitants.
"We don't just use indoor laboratories for teaching, we believe passionately in getting people outside to see things for themselves," says Mark.
"If we want to make a difference to protect what remains of our biodiversity, the first step is to get hands-on and look at things. The lessons learned at Reading set the stage for understanding how to help protect what's left."