As renewable energy takes centre stage in the fight against the climate crisis, Reading alumnus, Peter Edwards, reflects on a life spent navigating the winds of change.
In December 2016, Delabole, the UK's first commercial wind farm, celebrated its 25-year anniversary having produced enough power to boil 3.4 billion kettles since its blades first began spinning in 1991. The wind farm is a green energy success story, but as founder Peter Edwards can attest, the journey hasn't always been straightforward.
Peter, a University of Reading agriculture graduate, and his wife Pip, originally bought Delabole as a dairy farm but decided to change tack when the arrival of EU quotas and the disbanding of the Milk Marketing board put added pressure on farmers.
Wind farm pioneers
With talk at the time of building a nuclear power station in Cornwall, Pip joined her ecology group on an anti-nuclear march in Truro. This prompted the environmentally conscious couple to consider green alternatives to nuclear energy and, with a gale blowing outside on the day of the march, wind power suddenly seemed like an interesting possibility.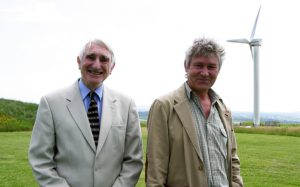 Peter decided to investigate further by taking an exploratory study group from the Cornish Country Landowners' Association over to Denmark, a world leader in wind power. Convinced by the effectiveness of wind power after seeing it first-hand, Peter and Pip immediately applied for planning permission to build a wind farm on their land. Gaining permission was a slow and frustrating process with plans initially being rejected due to concern amongst residents over noise levels. Eventually, it went to the county council who sent a team of experts to the Danish wind farms to see for themselves. They were quickly convinced, and Peter, Pip and their son Martin, who had recently become a partner in the farm, got the green light at last. 
The Delabole Wind Farm was constructed in 1991 and comprised of ten 400kw turbines that could power around 3,000 homes. These original turbines remained for 15 years and during that time the farm become a veritable tourist attraction with fascinated visitors arriving in their droves, resulting in the quick creation of a visitors' centre. In the first few years, the farm welcomed between 40-50,000 visitors per year, including school trips and coachloads from abroad.    
Generating even more power
In 2002, Peter and Pip made the decision to sell the wind farm to Good Energy which supply 100% green energy, and to whom they had been selling their electricity. This was done to fund the crucial "re-powering" that the wind farm needed to optimise its output by replacing the original turbines. Peter, Pip and Martin still own part of the company through shares, with Martin becoming a director, and have remained involved in running the site as well as consulting for other wind farms both nationally and globally.
Reflecting on the size and power of the wind industry today, Peter says:
"It's so satisfying to see just how far wind energy has come in the last 25 years, especially when I was initially accused of ruining the countryside for an insignificant amount of electricity." 
There are now four big 2300kw turbines at Delabole, standing proud against the beautiful Cornish landscape at double the height of the originals and producing twice as much energy – enough to power around 6,400 homes. The partnership still farm the land underneath the turbines making grass silage for neighbouring farms as well as managing a huge 55-acre woodland, which they started planting 30 years ago and plan to expand even further.   
A passionate environmentalist, Peter himself is something of an institution in his field, having been both Chairman of the British Wind Energy Association, now known as Renewable UK, from 1966-8 and instrumental in the creation of the Renewable Energy Association in 2001.
Supporting the local community
During the lifetime of the wind farm, Good Energy has pledged to contribute at least £9,200 per year (rising with inflation) to a local community fund. To date, the committee has allocated grants to a wide range of local community groups and projects. This has included the creation of an outdoor play area and willow shelter for St Pirans Playschool, new fencing for the Delabole Allotment Society and the installation of solar PV on the clubhouse roof of Delabole's Cricket Club.
Local residents also receive a special Delabole Local Tariff as an additional benefit associated with the wind farm. Around 170 local households now benefit from 100% renewable electricity, set at 20% less than the standard Good Energy electricity tariff.
Never afraid to diversify, Peter and Pip now also run a luxury holiday barn conversion, The Granary, and the Deli Farm Charcuterie from Delabole.
A journey that began at Reading
When it comes to Peter's impressive career, it all began with his studies at Reading and he looks back at his University days as some of the happiest of his life. As well as enjoying his agriculture course, he was also able to indulge his passion of sailing by being the Commodore of the University Sailing Club. At a recent club reunion on campus, he was amazed to find the Whiteknights campus completely transformed from his day when there was barely much more than a hall of residence to be found.  
He confesses that there is one other great, but lesser-known, achievement in his life. That during his time at Reading, he and his fellow sailors managed to convince the Vice-Chancellor to grant them an alcohol license, making the sailing club the only licensed premises at the University at the time!
Student socialising aside, Peter says of his experiences:
"I am totally self-taught, I have no engineering qualifications whatsoever, but I have an agriculture degree which turned out to be extremely versatile. No obstacle becomes unsurpassable to a farmer."
Reflecting on the increasing urgency to tackle climate change and the need to find greener energy alternatives, perhaps the answer really is "blowing in the wind."