Reading's School of Art Associate Professor, Tina O'Connell, sets up widening participation initiative, ArtLab, to engage students, staff and the local community in what it means to be creative.
The initiative brings a wide range of children from across different social backgrounds into contact with cutting edge art and technology projects, helping them, their parents and educators to understand the value that art can bring both in terms of creative opportunities and future careers.
Through a number of creative workshops, young people gain a deeper understanding of computing, digital media and new technologies, and how they will form an economically viable society both now and in the future. As creator, Professor O'Connell notes, the initiative creates a sense of artistic collaboration within the local community.
"We are trying to build a culture that gets everybody – no matter of background or ability – involved and engaged in art and what it means to them.
"ArtLab is about teaching our young people to understand what it is to be creative, about not necessarily knowing what the end product is going to be, but not being afraid to try different things out whilst working as part of a team."
Learning and creating together
Reading School of Art students are given the opportunity to deliver bespoke workshops to local schools through ArtLab and act as mentors for some of their pupils, helping to generate creative connections and develop their own transferable, interpersonal and communication skills.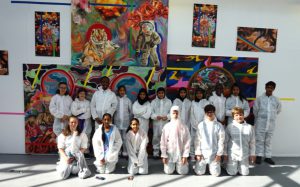 The programme enables students to improve their own abilities and understand their future career aspirations. ArtLab is highly beneficial to those considering a career in teaching as students are awarded a certificate – bronze, silver or gold – based on how many contact hours they have undertaken.
ArtLab focuses on the concept of 'co-researcher' – a phrase meaning everybody learning from the experience and from one another. The initiative fosters creative collaboration between students and young people, trying to disseminate knowledge and build opportunities for all those involved.
"We treat the school children we meet the same as our students, who are treated the same as the teaching fellows who support them. In ArtLab we are all learning together."
The Tate Exchange
As part of the ArtLab programme, students also get to deliver workshops and activities at the Tate Modern – a partnership facilitated by the University of Reading's School of Arts and Communication Design (ACD).
The Tate Exchange is an ambitious "open experiment" which allows members of the public, and especially school children, to participate in the Tate's creative process, using art as a way of addressing wider issues in the world around us.
This year, ArtLab held a number of workshops at the Tate Exchange, allowing both staff and students from Reading to further engage with digital technologies and re-think the art-making process.
Over the years, ArtLab has held collaborative clay workshops, an activity on imagining London in 2050 through utopian and dystopian visions, video workshops, and this year, the programme held a collaborative sculpture workshop, called Making Moves.
The workshop aimed to reimagine, recreate and reproduce sculptures on display at the Tate Modern using bodies to create shapes and AR technology to create a digital vision. The activity allowed both students and the public to develop ideas about what a sculpture can be and how a human body can be used as a sculptural form itself, facilitating dynamic interactions.
As Professor Rachel Garfield, Head of the Art Department, notes, the contribution of these activities by ArtLab to the Tate Exchange not only benefits the general public and school groups, but students themselves:
"The Tate Exchange benefits our art students in a number of ways. Teaching our cohorts at the Tate energises the students as they see what they are doing in a wider and international context.
"It gives them the opportunity to absorb what is in the Tate over an extended time and the relevance of contemporary art to their work. In working with ArtLab, they get 'real world' experience and see how making art at the Tate is exciting and generative for the school children, which they find really exciting and energising."
Art for the future
Looking towards the future, Professor O'Connell hopes to extend ArtLab even further beyond the classroom and into wider society. Rather than focusing on just young people, the initiative wishes to deliver workshops to a wide range of citizens to engage their creative ambitions.
"At the moment ArtLab focuses on young people and children, however, in the future we want to look at delivering workshops to those with mental health problems, or those in retirement homes. As artists we always have to be inventive and creative in what we can do."
Find out more about the latest news from the ArtLab.