Reading students take the main stage at Reading Festival, being given a once in a lifetime opportunity to intern at the popular event.
Reading Festival is an annual pilgrimage for tens of thousands of music fans. It also presents an exciting and unique opportunity for Reading students. For the past six years, the University has teamed up with festival organisers, Festival Republic, to give some of our students the opportunity to work backstage at the festival.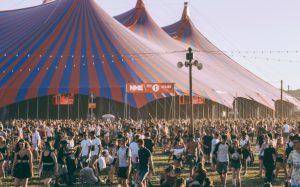 Working alongside the nation's leading press publications, interviewing chart-topping bands and reviewing headline acts, this opportunity not only gives our students real-world work experience, but opens doors to an exclusive industry.
This year, a team of eight students from a broad range of subjects were chosen to attend the weekend: Sophie Murray (Spanish and English Language), Chimma Ezekiel (film, theatre and television), Robin Smith (typography), Thom Robin (history), George Lawrence (English language), Katie Lawman (English literature), Joke Amusan (art and English literature) and Tom Ashton (ancient history).
Five of these students were selected as interns to work alongside the festival organisers, and were tasked with creating content for Festival Republic's blog and social media channels, allowing them to work behind the scenes directly with industry experts. As Sophie Murray attests, the internship was a unique opportunity: "I was excited to apply for the internship and for the opportunity to work backstage at Reading Festival, but the actual experience exceeded all my expectations!
"The Festival Republic team were so welcoming, and it was fascinating to experience the festival from such a different perspective; being in arm's length of the headliners before they performed was so surreal. Also, writing for the official Reading Festival blog was a great experience as now I have a portfolio of published writing to show on my CV."
English Literature student, Katie Lawman, adds:
"It was a once-in-a-lifetime opportunity to work as a Digital Assistant, where I had to create content for Festival Republic's social media channels.
"I was really privileged to have had the opportunity to go side of stage to watch bands, meet celebrities and even be interviewed by the BBC, all whilst enhancing my written and verbal communication skills and adding invaluable experience to my CV."
A creative endeavour
For the first time, students also teamed up with University academics to produce a creative project inspired by their festival experience, using the skills and knowledge from their degree courses. The creative projects included; an eco-friendly tapestry representing how artists convey messages on stage, visual explorations of diversity and culture among festival crowds, portraits telling the story of festival-goers past and present, and written poems and news articles on key themes from the festival weekend. The completed projects were exhibited at the University's Open Days.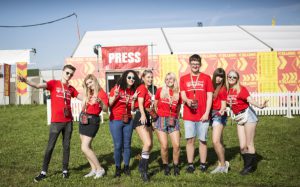 "My creative project which was shown at the exhibition consisted of a montage film titled Three Years to Three Days: The Reading Festival Experience, contrasting my university experience with the festival experience. My experience working at Reading Festival is one that will stay with me forever" said Chimma Ezekiel.
Robin Smith also exhibited his project – a fascinating typography piece tracking the festival over the decades: "What I ended up producing was a visual timeline of the genres favoured over the decades in the history of the festival, all the way back to the 60s when it was a jazz festival. I used the Reading Festival type logo, partly to link to my course (Graphic Communication) and also because I wanted it to be reminiscent of the huge 3D festival letters you always see when you go to these things.
"I then used the logo and hand-illustrated some of the headlining acts that are key for signalling genre and worked them into the letters. I chose a colour palette for each one to best represent the genre, with smoky blues for jazz and pinks for pop music."
Building on these great projects, Professor Roberta Gilchrist, Research Dean for Heritage and Creativity at the University of Reading, notes the significance of Reading Festival as a cultural event and why it is important for our students to get involved:
"Reading Festival is a major part of Reading's cultural identity, so it's a major coup to be able to offer our students a unique experience at this iconic event. Arts and humanities degrees teach students to think critically and to articulate and communicate their thoughts creatively. This is a valuable opportunity for our students to demonstrate skills that will equip them for the rapidly changing workplace.
"We have been impressed with the range of creative ideas submitted in applications by our students, and it is exciting to see how they have applied what they have learned on their courses to their internships and projects."
Find out more about the arts, humanities and social Sciences at Reading.