Reading alumna, Laura Nicholson, credits Reading School of Art for inspiring her to create art that challenges contemporary society in a meaningful way.
After having spent most of her childhood moving around the world from New York to Ireland and then Virginia, Laura returned to her English roots by choosing to study a joint-honours degree here at Reading. Reading School of Art offered Laura the chance to combine her passions of both art and psychology, understanding how the two subjects complimented each other.
Developing an art style
Whilst at Reading, Laura began to define her own style of art, learning how she could impact the world around her in a meaningful way. Laura's work focused on explaining the narrative of the human body and bodily structure, influenced from western ideas about what the body looks like, but also deriving from methodology, pornography and medical textbooks. Her art ultimately explored what it meant to have, and be in, a body.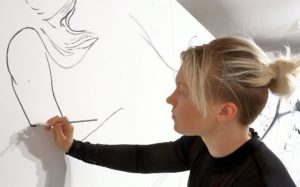 "My art elaborates my interests in human psychology, and I have enjoyed making artwork that makes people think differently, or that can challenge their own ideas somehow."
At the end of her undergraduate degree, Laura produced a final show piece called Sorry, But We Don't Carry Transcendence, an installation based around a museum gift shop. The artwork combined the narrative of transcendence with practical concerns and material desires. These ideas were further developed to form her Constantly Terrified installation, which combined drawing with animation, embroidery, video, painting and narrative work. This piece was eventually showcased at a leading UK contemporary art space, the Modern Art Oxford (MAO), which was a huge achievement for Laura.
"Each year the MAO chooses three students to setup residency over the summer and my work was chosen to represent Reading School of Art.
"The MAO gave me a great opportunity to work alongside other aspiring, ambitious artists who displayed really different, inventive works of their own – a great moment."
Learning at Reading
Studying an undergraduate degree at Reading provided Laura with a range of opportunities to learn from the best in her field, build her own creative style and showcase her art. In particular, Laura credits her exposure to visiting practitioners, through the School of Art's "artistic talks" and Enhancement Week Workshops, as her inspiration to pursue her ambitions as an artist. Reading helped Laura to grow in confidence and understand how her art could be used in an impactful and meaningful way.
"Visits from practicing artists allowed me to see my voice as part of a contemporary art dialogue and to challenge the opinions of practitioners.
"I felt far more empowered than I had before; those that stood out to me were the Kelly Campbell Curation Workshop and a visit from the artist and performer, Liv Wynter – a personal idol of mine."
An artist for the future
Laura is still engaged with Reading's emerging creative culture, recently participating in the group show, SLIP INTO at the local nightclub, After Dark. Since finishing her degree, Laura has developed her own blog, showcasing her artwork which focuses on psychoanalytic processes, embodied experience, intimacy, memory and the blurry line between performance and authenticity.
Reading developed Laura to become the artist she is today, with the School of Art immersing her in a supportive community of artists, curators and writers who encouraged her to push the boundaries of contemporary art:
"Reading, for me, was liberating. It gave me the space to breathe and develop. The campus is beautiful, the outward facing attitudes of the staff were helpful, and the studio space helped me to grow."
Find out more about studying art at Reading.