Science is important. But art is vital. 
We are lucky at Reading to have such a wonderful mix of students and academics that cover both sciences and arts. We often talk about our world-class agricultural, environmental or health courses, and see our scientific graduates going on and excelling in their chosen careers.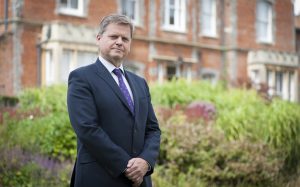 But I am always excited to hear about the creative exploits of our Reading family – the musicians, artists, actors and writers among current and former students and colleagues – and to experience their creative offerings.
Very often, the divide between art and science is a false one. In the Netherlands, where I grew up, the Dutch word for science, 'wetenschap', just means learning. As an archaeologist, I've always felt I have a boot in both camps.
Criticism of arts, humanities or social science degrees as being worth less than science is not only palpable nonsense, it is dangerous. In these uncertain times, our society needs inspiration, reflection and fresh perspectives more than ever.
I'm particularly pleased that in recent months Reading has taken some bold steps forward in support of heritage and creativity. Many of these initiatives build on existing relationships, or new partnerships with established institutions.
The British Museum is about as established an institution as you can get. Yet, the Museum is only now taking its first steps outside of London, after more than 250 years of history, with the new British Museum Archaeological Research Collection to be opened in Shinfield, south of the M4 motorway.
Building work on the new facility began this summer. When complete, it will not only give the museum a state-of-the-art building to store and study many of its priceless historic artefacts, here in Reading, but build stronger research and study opportunities between the University and the museum. It will provide schools and the local community with an outstanding resource for learning and study, which is also a growing priority of the University.
This is not the only longstanding cultural institution with which the University has been building relations in 2019. I'd like to think that Reading is famous for the University – but many people know it for Reading Festival, one of the oldest and biggest rock music festivals in the world.
This summer, we built on a previous relationship with the event's organiser, Festival Republic, offering eight of our most creative students the chance to see behind the scenes. As well as having the chance to work and shadow some of the festival's key staff backstage, our students were commissioned by us to produce their own artistic interpretation of events.
The result was a superb exhibition of artwork in the foyer of our refurbished Library in October, with a video installation, embroidery, poetry, photography and journalism among the work on display.
These examples help to remind us that while science makes modern life possible, art makes modern life worth living. I am proud that the University of Reading will be building on its successes not only as a doorway for discovery, but a crucible for creativity in the years ahead.