Throughout November, a team of 37 students took to the phones each evening and at the weekend to say, thank you, to our generous donors and supporters.
We spoke to more than 600 graduates and for those we managed to reconnect with, the feedback you gave us was invaluable. During the calls, we invited alumni to support the University's fundraising and volunteering campaign, IMAGINE. This year, our focus is on raising vital funds for Enabling Students – a programme which supports and enhances student experience on campus and beyond.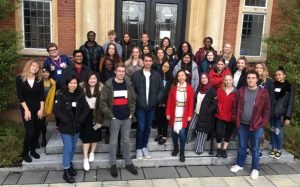 Thanks to the generosity of our donors and supporters, we have been able to support and expand Life Tools – a series of free talks and workshops designed to enable students to achieve their full potential. Life Tools helps Reading students to manage their academic demands effectively and improves their university experience.
Run by experts in personal development, the programme helps students transition to independence and build self-reliance. It covers everything from improving wellbeing through to diet, getting a good night's sleep and strategies to manage exam pressure. With your support, we have been able to expand this programme and planning is already under way to deliver sessions in the New Year, tailored to specific academic courses and vocations, such as Life Tools for Lawyers and Pharmacists.
Life Tools Programme Manager, Dr Alicia Pena, said:
"On behalf of the students, I would like to thank the donors for the generous funds. It is so good to have the resources to develop the programme and be able to grow the Student Wellbeing Service's prevention strategy."
Your continued support has enabled us to get this far, but there is still so much more that we want to provide for our students. We want to expand the online elements of the Life Tools programme, and grow the Student Support Fund, which provides emergency grants to students in crisis.
Find out more about how you can get involved.