Reading alumnus, Adam Stead, attributes the development of his artistic style to the local and international opportunities provided to him by Reading School of Art. 
Growing up in rural Devon, Adam has always been interested in agriculture and how it connects with the rural and urban worlds, and this early influence has been present in his work ever since. Throughout school, Adam was supported and encouraged to think "beyond the classroom" and to consider the role that art plays in social contexts, but it was his time at Reading School of Art that furthered these ambitions and helped Adam realise his potential, both abroad and in the UK.
An international focus
Joining the University as an undergraduate student, and then moving onto a master's, Adam was inspired to make the most of Reading's extensive international links and opportunities to travel abroad. He credits the study exchange project with Wuhan in China as a stand-out memory on his course.
"For me, the most important part of this course is its international scope. There was a whole range of opportunities where we got the chance to go abroad and learn from other people.
"Our partnership in Wuhan gave me the chance to step back and follow a different set of influencers, a different way of thinking. I learnt to work with architects and people from other backgrounds, cultures and professions. That is a really important thing to do as an artist."
During the exchange programme, Adam not only built on his own artistic abilities, but developed an understanding of the way traditional Chinese art is crafted – a mimetic form of art that differs from the more Western ideas of conceptualisation. These newly found ideas and styles have informed Adam's core working practice of sculpturing ever since.
After completing his undergraduate degree, Adam continued at Reading studying an MFA in Fine Art. Throughout the course, Adam not only broadened his understanding of art, but developed the key professional and international skills required to succeed as an artist. He also took advantage of all the opportunities on offer and built an impressive network of peers and professionals. 
"As artists we are always trying to challenge the conventions of society, so it is always helpful if you can first understand what these conventions and their cultural contexts are. My MFA in Fine Art gave me the opportunity to do just that.
"It not only taught me to be an aspiring artist, but also how to be a professional practitioner ready for the demands of the industry."
Being inspired
Adam also got to take many trips across the UK, including Ireland and Scotland, supporting staff with their research projects to help enhance his artistic profile; taking part in symposiums; writing proposals to communicate the theory behind his work; and working within a cohesive environment of colleagues from across the world.
Inspired by all these experiences and the knowledge that he had gathered, Adam created a piece of artwork at Reading called "More Cow Power" – a piece which highlighted the importance of agriculture in blending the industrial world with nature. Adam used this piece to showcase the role that art can play in helping to bridge the gap between the urban and the rural. Building on his original work, since leaving the University of Reading, Adam has created a series of "Lexi-Cow Stead" sculptures to explore the ongoing dictations and orchestrations the urban can inflict upon the rural.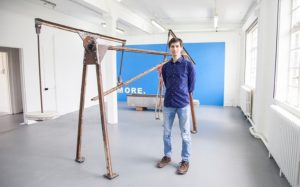 Whilst at Reading, Adam was supported fully by staff in the choices he made as an artist. He credits Reading School of Art for building his confidence, offering him once in a lifetime opportunities and developing his artistic style. Studying an MFA allowed Adam to attain the knowledge and skillset to build his artistic career and become involved with even more projects, exhibitions and residencies at the University.
Here at Reading, you can work with world-leading academics, travel abroad and shape your studies to suit your interests and aspirations – and as a member of Reading's alumni, you can also benefit from a 10% reduction in tuition fees for your postgraduate studies.
Find out more about postgraduate opportunities offered by Reading School of Art.