How can we ensure the cities and towns where our children will live in 30 years' time are fit for purpose?
Professor Tim Dixon and Professor Lorraine Farrelly talk to CONNECTED about the University of Reading's new partnership with local planners and economic development organisations that aims to develop a vision for a truly smart and sustainable Reading.
Based on an ancient bridging point at the confluence of the Thames and Kennet rivers, Reading's history stretches back to Anglo-Saxon times and perhaps beyond. The growing interest in Reading's culture and heritage, founded on a rich and often hidden past is established on its iconic buildings, such as the medieval Abbey and nearby prison, home to Oscar Wilde for two years. Reading's more recent industrial heritage is also important to remember through the four B's of beer, biscuits, bulbs, and bricks.
Today, Reading is a very different town to the one of years gone by, before the Inner Distribution Road was built and when trolley buses still ran. The Reading-Wokingham urban area (including parts of West Berkshire) now has a population of 318,000 and feels more like a city. Despite continued deprivation in some areas, it has responded to economic cycles with agility, innovation and strong growth, helped by the high number of start-ups and the hi-tech multinationals located here, such as Microsoft and Huawei.
Reading 2050
But this progress raises a question: what sort of a place should Reading be in 30 years' time? This is especially relevant when we think about the huge environmental challenges that all of our towns and cities face now, and in the future. Reading has an ambition to become zero carbon by 2030, so how will it tackle the urban challenges it faces, and how will it use technologies to become a "smart and sustainable" place to live? These are some of the crucial questions that the Reading 2050 project is focusing on.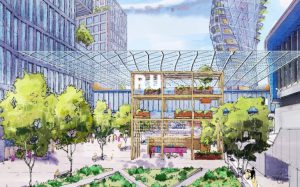 The Reading 2050 project was established in 2013 to deliver a strategic, long-term vision that will support growth and prosperity for the town. The project was co-created as a partnership between the University of Reading, Barton Willmore and Reading UK. Reading 2050 brought together not only planners, architects, businesses and local people, but also a multidisciplinary research team from across the University of Reading, led by the School of the Built Environment. The team set to work, building a comprehensive picture of a connected and sustainable city, developing three main themes, green tech, rivers and parks and culture and diversity.
A cultural hub of diversity
Picking up on the third theme of culture and diversity, Reading already has a rich heritage and strong cultural base through Reading Festival and the Reading Abbey. The 2050 vision sees the city as integrating, enhancing and celebrating heritage, bringing it to life through modern interpretations as well as preservation. Comedy, independent retailers, pop-up shops, street cafes, markets, community and creative hubs, workshops and live-work units will all support start-up businesses and facilitate the celebration of art, craftsmanship and culture.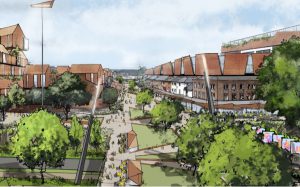 Sporting events, religious and international festivals should all be celebrated and woven throughout the urban fabric to bring the city to life, promoting health and wellbeing, whilst also intensifying activity around key city centre nodal points and community hubs throughout our suburbs. All these endeavours will be shared across a central hub, providing visibility and access to all.
A city for the future
The Reading 2050 Vision was formally launched in October 2017. Since then, Reading 2050 has already influenced future planning; it has been cited by the Government Office for Science's Future of Cities Foresight Programme and directly supports Reading Borough Council's statutory Local Plan and Corporate Plan. Collaboration and a strong participatory approach have been key. The project, through social media promotion and 15 local events has engaged with over 21,000 members of the local community, schools and colleges as well as 350 local business and various local government and NGO representatives. Professor Dixon from the School of the Built Environment, celebrates Reading 2050 as a way to bring the local community together:
"The Reading 2050 project aims to bring together key stakeholders in a co-created city vision. We have brought together University expertise and linked this with the important voices of business, local government and civil society.
"The ambition is to develop a vision for Reading which will enable everyone to better understand how it could transition to a smart and sustainable zero carbon future, drawing on Reading's strengths as a centre for digital innovation, green thinking and heritage and culture. But no vision is ever complete, so we are continuing to work with key stakeholders to develop and refresh the vision."
Four key groups have been involved in the creation of the vision: businesses in the local and regional area; local and national government; Reading residents and civil society and academics. The Reading 2050 project has also been embedded within coursework and project work in the School of the Built Environment at undergraduate and postgraduate levels.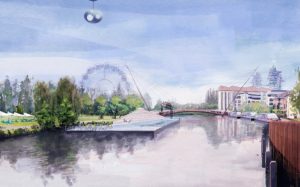 The Reading 2050 vision also provides a comprehensive resource and framework that has underpinned successful funding bids for further development work. These include the Heritage Lottery-funded Great Place scheme, which aims to place heritage at the heart of communities (including work by Geography and Environmental Science's Associate Professor Sally Lloyd Evans); the Thames Valley Berkshire LEP's Smart Cities Cluster Initiative that helps cities become more tech-efficient and environmentally friendly; and a new Department for Transport-funded project on Smart Places, focusing on transport, energy and air quality (both involving School of the Built Environment). These ventures, together with others, such as a public lecture series, and the School of Architecture's Urban Room', are involving staff and students at the University of Reading, bringing the team's interdisciplinary work back to where it all began.
Professor Farrelly, Foundation Professor of Architecture, says:
"The Reading 2050 project is about envisioning the future of Reading from a range of perspectives.
"We have a Reading 2050 public lecture series on campus that students and the local community have been invited to. This has been a forum for discussion around climate change, housing, culture and a range of other issues that will affect the future of our town and community.
"Architecture students have also been studying local sites for design projects to vision ideas for new public spaces, from art galleries to cultural centres on sites across the town centre. They have been creating drawings and models to illustrate these ideas. Reading is their laboratory for their creative ideas of buildings and place-making."
Find out more about Reading 2050 through Reading's public lecture series and from the group's recent paper on the vision.