Reading alumna and recent graduate, Bronte King, founded Gals Who Graduate – a social media-grown community aimed at supporting recent female graduates in their anxieties surrounding life during, and after university.  
With no clear career plan after college and having worried whether further education would be a good fit, social media star and model, Bronte King, is delighted to concede that opting to study at the University of Reading proved a serendipitous selection.
From not being able to picture a preferred profession to graduating with a clear focus for the future, three years spent as an undergraduate in Berkshire equipped Bronte – now an established Instagram influencer renowned for creating compelling lifestyle, fashion and travel content for major brands.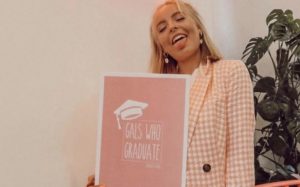 In addition to fine-tuning the production skills which continue to help her posts stand out from the digital crowd, the day-to-day experiences of studying for a degree in film and television at the University of Reading's Minghella Studios, served as inspiration for the 22-year-old alumnus' benevolent business – Gals Who Graduate.
The rapidly expanding, social media-grown community – which aims to reassure female students about the anxieties associated with life after university through a mutual support network and tailored events – was founded by Bronte during her final year at Reading and now boasts more than 7,000 members. 
"Gals who Graduate came about through talking," Bronte, who graduated last June, told CONNECTED. "I was living with four of my best friends and, after three years of getting to know each other and becoming so close, it was weird to think about moving out and moving on.
"None of us had a job lined up, even though that seems to be the expectation, and – with no money coming in – we were having to move back home. It all just seemed so daunting and I would go to the uni bar and talk to people and find many were in the same boat. Everyone seemed to be under so much pressure."
An Instagram post reaching out to others quickly confirmed to Bronte that Reading students were not alone in having concerns about their time on campus coming to an end.
"I had an amazing response; I have never had such a big reaction to something I've spoken about on Insta," she added. "That's when I knew I had to do something to get people talking more openly about their anxieties. I created a closed Facebook group that night and by the next morning there were about 400 members."
Expanding a social community   
A little more than six months on, and Bronte is busy with expansion plans for her caring community and creating a calendar of events to encourage connections across the country.
Keen to encourage face-to-face interaction as well as a digital dialogue, she has already hosted three successful evenings, with the most recent – a collaboration with London bar, Baille Ballerson, selling out within 50 seconds of tickets going on sale.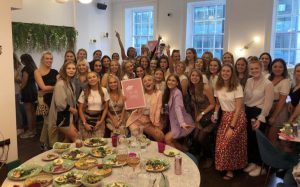 "The events have been 'pinch me' moments," she said. "The fact that amazing brands like Charlotte Tilbury and Superdrug supported the first was just crazy. I used to buy their products as a student and now I am hosting events with them."
Bronte insists, however, that the greatest reward for overseeing the growth of Gals Who Graduate is seeing and hearing the benefits it brings to its members.
"There is a lot of hard work that goes on behind the scenes, but it is all worth it," added Bronte, whose online popularity has led to enduring partnerships with fashion brands such as Under Armour and JD Sports. "We had one girl who literally didn't go to any social events with friends because of her anxiety, but agreed to be brave and come to our supper club.   
"She said it was the best night she's had for a long time and she now has a group of girls she can talk to about graduation, getting a job and anything else on her mind!
"There are also five girls who met in the Facebook group that now live together – it's wonderful hearing such fantastic feedback and it is why, 100 per cent, Gals Who Graduate is my long-term plan.
"I really want to make sure it is known in every single university and I'd love to visit universities, graduations and careers' fairs to give talks and let people know this is a community for them."
Using social media for good
While being the figurehead of Gals Who Graduate helped to alleviate Bronte's own pre-graduation panic, the anxieties it addresses are not alien to her.
"I really didn't know what I wanted to do when I was younger – I was so lost and only picked my A-Levels because they were subjects I enjoyed," she said. "I wasn't really sure I even wanted to go to university but thought I should give it a go as it was what everyone else seemed to be doing.
"I hated it to begin with and wanted to go home. I remember calling my parents on my birthday after a week and crying down the phone to them.
"I felt so anxious and lonely and all I could see on friends' Insta and Snapchat stories were people having the best time ever during Freshers' Week. You don't see the other side of it on social media – people feeling homesick, people finding it too much, people walking around not sure where to go, who to talk to or who to sit and eat lunch with."
Given her own negative experience of viewing others' lives through the often polished prism of social media posts, Bronte takes the responsibility of publishing relatable and unfiltered content seriously, and believes that Gals Who Graduate demonstrates the positive impact digital platforms can have.
"Social media is often seen in a bad light – especially in reference to mental health – and there are so many negative connotations associated with it," added Bronte, who boasts a 31,000-strong following on Instagram.
"With Gals Who Graduate, I wanted to turn that around and show that social media can be used for good and to make people feel good about themselves and change their lives for the better."
For details of future Gals Who Graduate events, you can follow the community on Instagram.