The University of Reading is in talks to lease space at its Thames Valley Science Park for a major new film studios complex.
Already a hub of business and innovation, Reading's Thames Valley Science Park is looking to Hollywood for its next stage of development. The University is already home to the successful Department of Film, Theatre & Television – which has a bright, open and flexible collection of spaces for teaching and learning.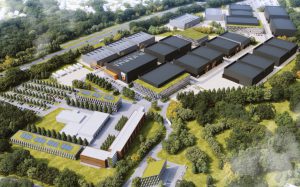 The University is in early discussions with a major US company, Blackhall Studios, which provided the facilities for the blockbusters Venom, Jumanji: The Next Level and Godzilla: King of the Monsters. The company hopes to build a £150 million Hollywood-style production complex in Reading, which could lead to the creation of 3,000 jobs at the studios and in the supply chain.
A site for innovation
The science park is already home to a range of high-tech buildings and tenants, with the British Museum Archaeological Research Collection under construction. New film studios would not only add to this innovative environment, but address a national shortage of studio space. The University hopes that the film studios at the park could become a hub for supporting creative and digital businesses. A film studio development could encourage clusters of businesses in similar fields, linked to areas of world-leading academic expertise at Reading.
Over the next 20 years, the Thames Valley Science Park could grow these clusters to encourage and encompass a wider range of specialist employment. Samantha Foley, the University's Chief Financial Officer, said: "These are exciting proposals that would focus the future of Thames Valley Science Park around key areas of expertise at the University of Reading including film and TV, heritage and the arts, and innovation and technology.
"We want the science park to reflect our institutional priorities of supporting excellence, environmental sustainability and building strong communities.
"We will work closely with our neighbours and the wider community to create long-term opportunities to benefit Shinfield and the whole region."
Reading is making it a priority to listen to local people and other stakeholders on how a broader vision may look at Thames Valley Science Park. Any further developments would also look to encourage closer engagement with local communities, schools and organisations, as well as students and staff at the University, providing opportunities for training and careers in a variety of fields of economic importance to the UK economy.
Find out more about the Thames Valley Science Park here.