Dr Kristina West explains how returning to Reading to do a master's in children's literature inspired her to continue her studies. 
Years after obtaining her BA at Reading, Dr Kristina West discovered that the University also offered a highly accredited MA in Children's Literature, which inspired her to return this beautiful campus. With convenient access to the British Library in London and an array of Reading's own archives and special collections to explore, Dr West embarked on the next step of her academic career.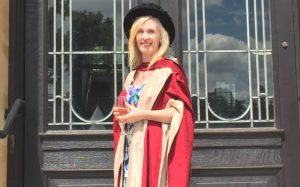 With innovative approaches to teaching, Reading's academics inspired Dr West to approach children's literature critically and understand it in ways she had never previously conceived possible. As part of the Graduate Centre for International Research in Childhood: Literature, Culture and Media (CIRCL) – world-famous for its cutting-edge research and for promoting international and interdisciplinary research on childhood – the MRes in Children's Literature has been a popular course for students for over 35 years.
"The critical approach to the subject challenged me in a way I had not foreseen, and although it was not easy, the community of scholars, MA students and PhD students offered invaluable support, advice and care.
"I also felt that this course both prepared and inspired me for further study at PhD level."
A career in writing  
After completing her master's degree and subsequent PhD, Dr West has embarked on a successful career in writing, attributing her professional success to her time spent at Reading. Since leaving the University, she has obtained a book deal with Palgrave Macmillan and is currently working on two forthcoming monographs on Little Women author, Louisa May Alcott, and another on childhood and the Salem witch trials. These works were initially inspired by the support and advice of academic staff at Reading and are due to be published later this year.
Transforming her career from a financial journalist to an academic writer has been a remarkable journey for Dr West. She now promotes the importance of the humanities in everyday society through a blog-based rotation-curation account called We the Humanities. Each week a new tweeter takes over the account, tweeting about what they do within their field, what their interests are and encouraging conversations with a wider audience.
Having enjoyed great professional success since completing her studies at Reading, Dr West encourages anyone considering to study children's literature at Reading to give it a go.
"I would recommend the MRes in Children's Literature to anyone who wants to think critically, to participate in rigorous academic debate, to challenge their preconceptions of children's literature and its study, and to achieve more than they might think possible."
As a Reading graduate, you can also benefit from a possible 10% reduction in tuition fees for your postgraduate studies. Find out more about the MRes in Children's Literature here.