The University of Reading completes a £40 million refurbishment project to bring the Library into the modern day, focusing on improving the student experience and environmental sustainability.
To a university student, a library is more than just an ordinary building. Libraries are an integral part of the student journey, helping to stimulate learning and development. This is why, beginning in the summer of 2016 Reading decided it wanted to make its Library a vibrant focal point for the Whiteknights campus, and began a huge three-year refurbishment project.
Now completed, the Library has 200 new study spaces, a more efficient system for borrowing and returning books, improved access throughout the building and a brand-new café. However, not only has the project improved the physical infrastructure of the building, but sustainability has been a key focus.
A sustainable future
Part of the Library refurbishment project aimed to reduce the energy usage and carbon emissions of this well-used building, yet still create a comfortable study environment for students. By replacing heating and ventilation systems, windows, cladding and roofing and by using more sustainable materials, the Library is expected to significantly reduce its total energy usage by 40% and carbon emissions by 30%, contributing to the University's target to become a carbon-zero institution.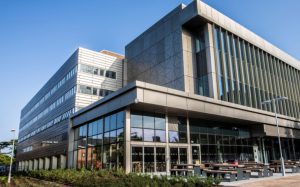 To add to this environmental success, for more than 15 years, the Library has been offering its books in a digital format and this has become an increasingly popular way of studying and accessing content for students. As of January 2020, e-books had been accessed over three million times and now the digitisation of books is becoming even more important in the Library's future. In line with other academic libraries across the UK, Reading's Library now spends 80% of its budget for information resources on digital content. This has allowed greater access for a higher number of students at the same time and increased the sustainability of the Library overall.
Dan Fernbank, Reading's Energy & Sustainability Manager, said: "Like many UK universities, much of our estate was built in the 1960-70s, with poor levels of energy efficiency and thermal comfort.
"The Library refurbishment project has transformed the building into a modern, state-of-the-art facility which will significantly reduce our environmental impact way into the future."
Art that confronts waste materials
But the Library hasn't stopped there. Later this year, a sculpture made of recycled waste materials will be installed in the new Library quad to show the University's commitment to reducing its carbon footprint. Artist duo, Ben Cain and Tina Gverovic, have been awarded a £40,000 commission to create the sculpture for Reading, inspired by its history, research interests and communities, responding to the new Library redevelopment. The colourful concrete sculpture, called "Metamorphic Station", will incorporate waste materials like glass and other objects generated on campus and will provide a multifunctional space for students and staff to rest, work, teach or exhibit.
Vice-Chancellor, Professor Robert Van de Noort, said:
"This sculpture is in keeping with our commitment to provide new and creative ways for our University community to connect socially and academically. The use of recycled materials will be visible evidence of our mission to reduce our environmental footprint as an institution.
"The sculpture also represents the value we place on arts and humanities at Reading. The artistic piece will act as a melting pot between different disciplines and colleagues across the University."
The sculpture is the first of a number of art installations planned for the University's £200,000 public art project which aims to enhance public spaces, communities and relationships on campus. Coinciding with the Library refurbishment, the new recycled waste sculpture will signify Reading's long-term commitment to sustainability and protecting the environment as the University aims to achieve a 45% carbon reduction target by 2021.
Find out more about the Library refurbishment project here.