Vice-Chancellor, Professor Robert Van de Noort, talks to CONNECTED to share a message of support during this difficult time.
It hardly goes without saying that these are challenging and unprecedented times. The global impact of COVID-19 is being felt on all our lives, and the lives of our family members, friends and colleagues.
Our thoughts are with everyone who has been affected, and we send you all our warmest wishes during this time.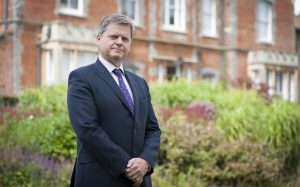 Crises often remind us of what is really important. Now is the time, more than ever, to look out for our friends, families and communities. You may be living alone or with close family members, you may be self-isolating, and some of you may be working on the frontline in the response to the coronavirus. Whatever your situation, we are all adapting to a new 'normal' and facing new challenges.
While you may be busier than ever, you may also have some extra spare time, or just want to apply yourself to the things that you care about. At times like these, staying connected is so important. Why not use the opportunity to make use of your existing networks, including the University of Reading community, to reconnect with old friends, or reach out to people who may be in need of support?
We are working on a range of initiatives to support our whole community, more details of which we hope to be able to share with you soon.
Moving our work online
Reading's commitment to the health and wellbeing of our University community has seen us implement significant changes in response to the evolving crisis. We have moved quickly to deliver teaching and assessment online, we have enabled the majority of our colleagues to work remotely, and we are focussing our campus resources on supporting those students who may not have the opportunity to travel back home.
Looking after your wellbeing
I'm sure that many of you have had to transition to home working. As we settle into these new arrangements, the impact of being away from our normal support networks, both professional and personal, is starting to sink in.
At the University, we are finding ways to connect through video conferencing to carry out normal work activities, to support each other and even conduct socials. Looking after our wellbeing and managing the challenges and the opportunities that come from this new way of working is important. I hope that wherever you are, you are managing to adapt to the new circumstances and are taking the time to look at your own wellbeing.
#WeAreTogether campaign
Yesterday marked World Health Day, a day that celebrated the work of nurses and midwives who help us live in a happier, healthier world. The World Health Organisation (WHO) suggests we all "Take a minute to say Thank You" to these healthcare professionals, and Reading is glad to be a part of the Universities UK #WeAreTogether campaign. The campaign begins with a show of appreciation to university students and staff involved in frontline NHS services, including nurses, midwives and doctors (including those still in training). Through this new campaign, we will be telling you more about Reading's contribution to the fight against COVID-19, whether that be through our scientific research or through our expert understanding of the likely impacts on our lives.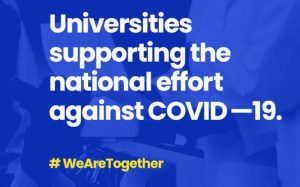 We have everyone within our alumni and supporter community in our thoughts, and we wish you and your family safety and good health during this difficult time.
Learn more about how we are tackling COVID-19.