With the University committed to supporting the NHS during this time of crisis, CONNECTED speaks to one of our inspirational employees – Rachel Jeans – about her role as a Community First Responder.
Rachel is usually found in our Campus Jobs team where she is the deputy manager, but earlier this year she signed up to become a Community First Responder for South Central Ambulance Charity – not knowing that an international pandemic was just around the corner.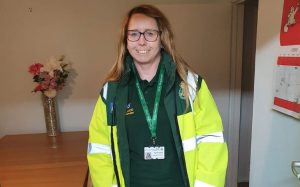 Different to the recently launched NHS GoodSAM scheme, which was specifically set up in response to the coronavirus outbreak, Community First Responders are fully trained volunteers who respond to emergency calls in the area where they live or work, delivering life-saving skills until paramedics arrive.
Rachel, who lives in Tadley, tells us why she signed up to be a Community First Responder:
"I've always wanted to help people – I kind of regret not going down the medical route for my career, but I've always tried to incorporate it into my work, such as being first aid trained."
When she received her training in February, Rachel had no idea that she would soon be attending calls dressed in Personal Protective Equipment (PPE).
"It has been strange: I did my first call to an elderly patient and we obviously had to wear a mask and gloves. Community First Responders are so important, especially at the moment when paramedics and other health professionals are being constantly called to virus emergencies.
"We bridge that gap in the community. If we are called out to a cardiac arrest and can be on the scene in two minutes, it can make such a huge difference. We can administer that initial first aid until paramedics can arrive and take over."
Rachel is part of a team of four volunteers who cover Tadley and the surrounding area. Each volunteer is required to be on-call for around 20 hours a month, or five hours a week, although Rachel says volunteers often do a lot more.
Since she began working from home, Rachel has been managing her volunteer on-call duties around her full-time job, including using her work time flexibly to attend emergencies. She tells us: "My line manager has been really supportive. As long as I am available for team meetings and I get my work done, they really don't mind if I have to nip out to attend a call."
Campus Jobs manager, Jay Russell said:
"We're all very proud of Rachel for giving up her time so selflessly to help others in her community. She is a great example to us all, and we hope other members of staff and students alike are inspired to follow in her footsteps."
Supporting our staff
The University is extremely proud of everyone who is volunteering to provide critical support to the NHS as it faces its greatest challenge to date.
Whether giving their time, undertaking research on COVID-19 or donating protective equipment, we are supporting our staff members to volunteer with the NHS, and in particular with our partner, The Royal Berkshire Hospital (RBH), in a range of capacities. The RBH is currently looking for volunteers in catering, housekeeping, portering, and those with laboratory experience, and the University is committed to supporting anyone who wishes to take up such an opportunity.
Share your story
Are you involved in the fight against COVID-19? Whether that be through volunteering or your job, we'd love to hear from you.
We want to showcase the inspirational work our alumni and supporters are doing across a range of roles, and to thank you for your efforts in contributing to the fight against this pandemic.
Please email us at alumni@reading.ac.uk to share your story.