From donations of webcams to hospitals, to enabling access to specialised technology, CONNECTED looks at how the University is working with the NHS and other local partners, to support them during the COVID-19 outbreak.
From studying the virus itself to supporting NHS staff, the University is helping to protect people from COVID-19 and supporting them with the impact it is having on society.
Joining forces to make face shields
A partnership established by Leighton Park School of 14 local schools, 18 manufacturing partners and the University of Reading, have joined forces to make face shields for the NHS. The network has so far provided 20,000 face shields to 79 organisations at the frontline of the COVID-19 response, including eight hospitals and 18 GP surgeries. All of this has been made possible by the generosity of the public, with over £17,000 having been donated.
The addition of the University of Reading, and two other local businesses outside the education sector, has been a game-changer, enabling the partnership to ramp up production with access to high spec machinery.
Mark Smith, Head of DT at Leighton Park and with a background in biomedical engineering, said:
"At the moment we've got the material to produce tens of thousands. Our IT department has set up phones in our workshop, we've got a board of how many we've got to produce and who we've got to deliver to – so a full logistics hub."
The project has given so many people a meaningful way of contributing to the crisis to support others, and the University is proud to be part of this initiative.
Hospital webcam donations to help patients and doctors
COVID-19 patients will be able to speak to their families more easily, and clinicians provide care safely, after the University of Reading donated 100 high-resolution webcams to two hospitals – the Royal Berkshire Hospital (RBH) in Reading, and the Royal Brompton Hospital in west London. The hospitals appealed for the gadgets after they became almost impossible to order due to high demand as more people work from home.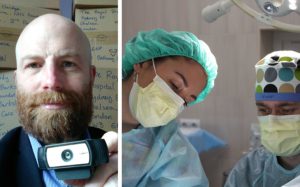 The webcams are attached to a computer at a patient's bedside in intensive care, enabling frontline clinicians delivering critical care round-the-clock access to virtual support from specialist colleagues any time they need it. This helps senior clinicians provide constant remote support to all the critical care areas under isolation, helping to facilitate team communication, save time and reduce the need to use personal protective equipment (PPE).
The cameras donated are high enough resolution to allow doctors to read data on ventilators via the cameras, maintaining a high level of care from a safe distance. They will also allow some family members of critically ill patients to see and speak to loved ones who are unable to visit due to restrictions.
Professor Parveen Yaqoob, Deputy Vice-Chancellor of the University of Reading, said:
"We are pleased that this small gesture will make such a big difference to hospital staff, patients and their families."
The University stepped in to help after a member of staff spotted an appeal for unused webcams from the COVID-19 Emergency Response team at Royal Brompton, a specialist respiratory hospital caring for patients who are acutely unwell with the virus. After realising the benefits the technology offered to both patients and staff, the University also contacted the Royal Berkshire Hospital in Reading to see if a similar donation would be of use. The donated cameras were from the University's existing IT supplies and were delivered to both hospitals on the 31 March.
Dr Janet Lippett, Chief Medical Officer at the Royal Berkshire Hospital, said: "We've been using webcams to keep families of new born babies connected, and this very generous donation from the University of Reading means we can now widen their use around the hospital site.
"They give clinicians the chance to communicate with colleagues without the risk of spreading infection, and they also mean patients can keep in touch with their family whilst in isolation – something that will help boost their morale during these difficult times."
Boosting UK testing capacity
Not only has the University been aiding frontline workers through the donation of face shields and webcams, laboratory equipment for COVID-19 testing has also been loaned to help boost national capacity for testing NHS and social care workers.
Three high-tech RT-PCR (reverse transcription polymerase chain reaction) machines were made available by the University on 18 April, and collected by soldiers of the Army's Royal Logistic Corps. They have now been sent to a testing facility in Northern Ireland following a request by the Secretary of State for Health and Social Care, Matt Hancock.
RT-PCR machines are a crucial part of laboratory tests to indicate if a patient has COVID-19. Diagnostic lab technicians use them to search for the presence of the virus's genetic material in swabs taken from a patient's mouth. However, the machines and other lab items have been in short supply globally as governments seek to ramp up testing capacity. Professor Yaqoob said:
"We are proud to play our part in supporting efforts to increase diagnostic testing for COVID-19 by loaning equipment to the national effort."
Read more about how our staff are supporting the NHS.