From live DJ sets to video gaming challenges, CONNECTED looks at how the University of Reading community is helping to motivate millions during lockdown.
It's not easy staying motivated during a lockdown, but here at Reading, our staff and students have been finding ways to help raise people's spirits – at home and in hospital – during this difficult time. And we wanted to share a few of those positive stories with you…
Clubbing at home
Since lockdown began, two University of Reading students, Harvey Dryburgh and Freddie Mann, have been trying to lift spirits by bringing the dancefloor to kitchen floors. These two creative students have been streaming live sets from international DJs through their internet station, Rona Radio, to people around the world who are staying at home.
Their radio station aired its first live stream on Friday 20 March and has been broadcasting live DJs every evening since then. The online platform is growing in popularity and has already attracted well-known international artists.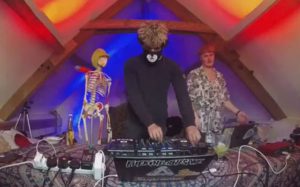 Harvey, a second-year Henley Business School student, and Freddie, a second-year Construction Management student, both already work in the entertainment industry alongside their studies. Freddie DJs at student nights in Reading, while Harvey does promotional club work. They have been using their existing contacts to reach out to established DJs to help get the platform off the ground.
Both students are currently staying at home – Harvey with his family in Devon, and Freddie in his student house in Reading, where he provides live sets from the kitchen.
Speaking of their success to date, Harvey said: "We initially set this up as a bit of fun, but have seen the popularity of the live streams grow massively. We encourage all participating DJs to follow government guidelines on social distancing and self-isolating.
"The whole premise of our platform is that we are providing entertainment to people who are in isolation, so it is only right that we promote this behaviour from our DJs."
The project is not-for-profit, although the pair hope to use their experience to set up their own events company in future. Their recent line-ups have included Dutch DJ, Mason from Amsterdam, Italian DJ, Mind Enterprises and Denmark's DJ Ziggy Phunk.
Rona Radio is also hoping to raise money for an NHS charity and has set-up a JustGiving page to do just that.
Video gamer challenge
Not only are Harvey and Freddie doing a fantastic job of lifting spirts with their live DJ sets, but our very own Museum of English Rural Life (MERL) recently set video gamers at home an interesting challenge. A few weeks ago, the Museum took to Twitter to call on Nintendo gamers who bought the recently released Animal Crossing, to create smocks inspired by those in its collections for their customisable characters.
The result was incredible. Gamers, including real-life artists and costume designers, came out in force to share images of their smock designs on social media.
Joe Vaughan, Digital Editor at the MERL, said: "It's been incredible to see people engaging so creatively with our collections, and really demonstrates the opportunities presented by digital technology for bringing our heritage to life.
"Demonstrating the contemporary relevance of rural history is a major part of our mission at the MERL, and there will be lots more content to access online over the coming weeks."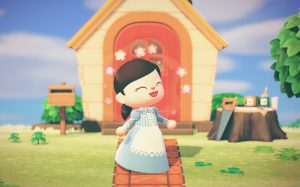 Smocks were long sleeved garments, often intricately stitched with colourful patterns, historically worn by agricultural workers to keep their clothes clean. They fell out of favour by the twentieth century, but elements of their design continue to be used in dresses and tops today.
The MERL is home to the largest collection of smocks anywhere in the world. The 63 smocks are part of a vast array of some of the earliest and best-surviving objects relating to English farming and countryside as far back as 1750. The virtual smock display will be added to the online exhibitions hosted by the MERL, and will be especially important in satisfying the appetites of farming fans in the coming weeks after the Museum was forced to close its doors due to COVID-19.
Museum staff and archivists will also be delivering elements of the events and activities planned for the next few months in a digital way, including educational materials for young people as well as using their collections on social media to comment on current trends and news headlines.
Keeping minds active
While the MERL has been motivating those at home, researchers at Reading have been doing vital work to keep hospital patients active and distracted from anxiety and boredom during the COVID-19 crisis with specially designed workbooks.
Researchers from Reading's Centre for Health Humanities worked with medical colleagues and patients at the Royal Berkshire Hospital (RBH) to create the Writers' Block workbook, an activity booklet that encourages users to get creative by doodling and writing.
The booklets were originally aimed at adult patients with complex conditions, but have proven to be effective indoor activities for residents of hospitals and prisons across the UK, as well as children being homeschooled during the COVID-19 pandemic.
They have been taken up by the RBH, Peterborough Hospital, the Royal United Hospitals Bath, Sheffield Teaching Hospitals, and HMPs Bristol, Guy's Marsh and Erlestoke.
Professor Andrew Mangham, English Literature Lecturer and Co-Director of the Centre for Health Humanities at the University of Reading, said: "During these difficult times, activities to distract from worries or pass the time are important for so many, particularly those in hospital or suddenly lacking the structure of school or normal day-to-day life.
"The workbooks are based on our research that shows being creative and keeping our minds and hands active is hugely beneficial when other activities are taken away. It is also a wonderful opportunity for the public to see rare materials in the University's archives in a fun way."
The workbooks are based on the concept of a 'resilience pack', often used in writing therapy groups, and were rapidly produced by Professor Mangham, and colleague Dr Katherine Mattacks, after the COVID-19 outbreak began in the UK. The booklets contain excerpts from rare books and documents dating back hundreds of years, all held in the University of Reading's Special Collections. These include, eighteenth century sketches of creatures to complete, images from the first ever microscope books and creative writing prompts based on wildlife drawings.
The booklets are an extension of a joint project between the University of Reading and the Royal Berkshire NHS Trust, called Stories of Ageing, which uses art and stories to support patients in the Elderly Care Ward at RBH. It trialled the use of artefacts, documents and records from the University's archives and museums in helping patients with long-term and complex conditions to structure their day, keep their minds active, and pass the time between treatments.
Find out more about our health research partnership with the Royal Berkshire Hospital NHS Trust.