The University of Reading has partnered with local firm Red Whale to ensure General Practitioners in the UK receive clinical updates and online resources to enable them to respond to the COVID-19 pandemic.
CONNECTED speaks to those involved in the partnership to find out more about the important updates and online learning being offered to support NHS workers throughout the current crisis.
Delivering vital information
Red Whale, a company based in the University of Reading's Enterprise Centre, provides medical Continuing Professional Development (CPD) for half of the UK's GPs.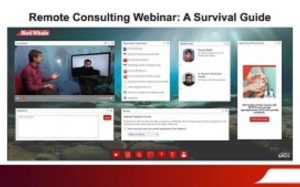 Access to Red Whale's online learning portal is normally only available to members. However, as NHS frontline staff work under incredible pressure to care for those infected with COVID-19, Red Whale is providing free online resources and updates known as 'Pearls'. As well as covering many other medical topics, Pearls deliver vital information and up-to-date procedural advice from the government on the virus, enabling GPs to provide patients with the best care.
Martin Haley, Chief Executive of Red Whale, said:
"Just as for so many small businesses, this is a very difficult time for us. Expanding the business to online training was incredibly timely. I am really pleased that our partnership with the University has meant we are in a position to be able to communicate the latest government advice to GPs speedily and in an easily accessible, engaging format."
Partnership with Reading
In order to react to changing market trends in CPD provision, Red Whale needed to establish their training on digital platforms, including webinars and online courses. A collaboration between the University and Red Whale established a Knowledge Transfer Partnership (KTP) in 2018 to enable them to achieve this.
Red Whale's partnership with the University matched the company's needs with a KTP Associate, Dr Blessing Mbipom, and a team of experts including Professor Rachel McCrindle, School of Biological Sciences; Professor Richard Mitchell, Department of Computer Science; and Dr Yota Dimitriadi, Institute of Education.
Dr Blessing Mbipom, KTP Associate, said:
"We organised a Remote Consulting Webinar specifically in support of the COVID-19 effort and the response we have had from GPs during the pandemic has been incredible. Our delegates appreciate how engaging and professional our online content is."
Reading's Professor Rachel McCrindle added:
"We worked with Red Whale to address the challenges associated with moving from a traditional face-to-face approach to a more real-time, varied, convenient and flexible online approach to CPD. Blessing and the team at Red Whale have delivered an online learning infrastructure, while ensuring online training does not prove to be disruptive to the traditional face-to-face courses, but rather uses the online platform to enhance and extend current course provision.
"Seeing how the project has contributed to Red Whale's fantastic support for GPs during the COVID-19 pandemic has been hugely motivating, and highlights the benefits of industry and University collaboration."
The KTP scheme is a part government-funded programme to encourage collaboration between businesses and universities, linking business with an academic or research organisation and a graduate. At the University of Reading the project developed a digital learning offering that complements the existing face-to-face offerings and saw a doubling of engagement from attendees online.
Find out more about how Reading is helping to support local partners during the COVID-19 outbreak.