Reading graduate Mark Stevenson is at the centre of scaling up the UK's COVID-19 testing capacity. Responsible for helping to achieve the goal of 100,000 tests a day, Mark tells CONNECTED how he's been involved.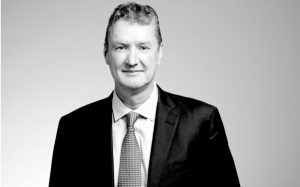 Mark is the Chief Operating Officer of Thermo Fisher Scientific, a global world leader in serving science, whose mission is to enable their customers to make the world healthier, cleaner and safer. He is based at their US headquarters in Massachusetts.
The organisation designed and developed a COVID-19 test as soon as China supplied the genetic code at the start of the outbreak. Then when the UK government declared they would achieve 100,000 tests a day by the end of April, Mark stepped up to help.
Reaching the 100,000 test target
Mark and Thermo Fisher have fully embraced opportunities to get involved in the effort to beat COVID-19, determined to use their expertise to help in the global fight.
Mark tells CONNECTED: "On 13 March I was personally asked to the White House Rose Garden where I met President Trump to discuss setting up state-by-state US testing. Then two days later I was at Downing Street with the UK Government to discuss setting up UK testing.
"It is tremendously gratifying to be directly involved in helping both governments from early on."
Large-scale testing will be vital to the UK in ending its lockdown and Mark has been working closely with the UK government to meet their testing targets.
He said:
"I'm part of the UK COVID-19 testing task force which Matt Hancock chairs with Lord Bethell, so I'm on a call with them every other day, updating them on progress.
"It's been an incredible journey – from setting up an RT-PCR [reverse transcription polymerase chain reaction] testing machine on the cabinet table at Downing Street to demonstrate to Boris Johnson and Matt Hancock how they work, to now having set up three 'lighthouse laboratories' in the UK, supplying the capability to achieve 100,000 tests a day. We were confident we could meet the demand as we produce five million tests a week that are dispersed globally, but it required the creation of three new 'lighthouse labs' with a high productive capacity to meet this target."
"We mobilised our 5000 UK employees to focus on enabling the large-scale ramp-up of testing, asked university students to help operate the new labs, and requested loans of equipment from universities."
Mark was particularly pleased when the University of Reading responded by loaning three RT-PCR machines to the effort.
He said: "We also set up a manufacturing site in Warrington for COVID-19 kits, which was particularly interesting for me as that is where I did my industrial year during my degree at Reading – so that took me back a bit!
"We are now scaling up further, with the UK government setting the new target of having capacity for 200,000 tests a day by the end of May. We achieved this by improving the workflow in the labs, making it easier, more convenient and therefore quicker to process tests."
Helping where we can
While testing is a key pillar in the UK government's strategy to protect the NHS and save lives, there are other important requirements in the fight against COVID-19, which Thermo Fisher has also been supporting on.
Mark said: "We are also supporting research by supplying tools and technology to universities. For example, we supplied our electron microscopes to the Rosalind Franklin Institute in Oxfordshire. Everyone calls this virus invisible, but actually if you use a powerful enough electron microscope you can see the virus and how it grabs onto cells, which is incredible. In addition, we have proposed to the UK government that we use our site in Swindon to package the vaccine that Oxford has developed and is being trialled, into vials suitable to then be injected into patients.
"Developments in antibody testing are also crucial. If people can carry out COVID-19 antibody tests correctly in a home environment, they can be conducted without a medical professional being present. This is why I'm supportive of Reading's Dr Al Edward's research project into the most efficient ways to carry out home testing."
A fundamental education
Mark studied chemistry and microbiology at Reading, followed by a Master of Business Administration (MBA) at Henley Business School, both of which have given him an essential foundation for his career and work today.
He said: "Studying at Reading has been integral to my career, and is still helping me now during our COVID-19 response. Every day I'm dealing with what is fundamentally about chemistry and microbiology, so to have the level of understanding of this science that Reading gave me is critical. That, combined with the business education I received from Henley Business School, has given me the perfect mix of a foundational understanding of the science behind what we do, and the ability to deal in topics across finance, marketing and people leadership.
"It's hard for a university graduate to say this will be my career. And despite securing my first job at one of Reading's Career Fairs, I can't say that I had a finger on what my specific career would be when I graduated either – but I can say that my career has been extremely fulfilling, jam-packed with science, business, travel and making a difference.
"I'm proud of where I've gone since leaving Reading and am grateful for the springboard Reading provided me. As a new graduate, I certainly didn't imagine that I'd now be working closely with the US and UK governments to scale up testing for a global pandemic – but I'm incredibly glad to be in a position to do so."
Making a difference
Mark is proud of the role he and Thermo Fisher are playing in the fight against COVID-19, and will continue to play in the immediate future.
He said: "I am motivated in my work by understanding the applications of science and technology that enable us to make advances in our scientific field. My work is very fulfilling because it mixes the business and the science together, and has a visible global impact.
"At the moment, work is seven days a week and is very intense, so it's hard to take a step back to evaluate the scale of what we are trying to achieve. I am so proud that we are doing our bit, contributing our expertise to the global effort.
"While it feels good to know we are contributing, we also know that there is always more to do. And we will keep going until this virus has been beaten."
Find out more about Dr Al Edwards' research project investigating how to improve the effectiveness of COVID-19 antibody tests and discover how you can help.