Henley Business School graduate Jill Rodney is proud to support the biomedical scientists analysing COVID-19 tests. As Chief Executive Officer of the Institute of Biomedical Science Jill tells CONNECTED about their crucial work.
Biomedical scientists are the people in labs analysing COVID-19 tests and reporting back on the results. The Institute of Biomedical Science's role is to support these scientists whom Jill believes to be some of the unsung heroes of the pandemic. Jill tells CONNECTED about the amazing work biomedical scientists have been doing, and how the Institute has been supporting them.
Supporting scientists during COVID-19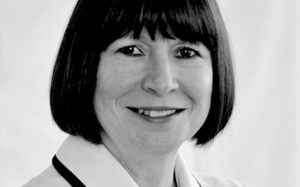 Jill explains how the Institute has been supporting biomedical scientists across the UK and Ireland, to enable them to continue with their instrumental work in the fight against COVID-19.
She said: "Now more than ever, it's crucial that the NHS has all the support possible during the pandemic. Therefore at the Institute we've done a lot of work to ensure that biomedical scientists are able to continue to fully support the NHS during these difficult times.
"We introduced a system where students in the final year of their Institute accredited degree could be identified and put onto a temporary register, enabling them to be called up to help the NHS. When COVID-19 is under control these students will have to finish their exams before becoming fully qualified, but it was crucial that they be able to help right now.
"We have also transitioned to virtual exam assessments and portfolio verifications, to ensure that students and members can still complete their qualification where possible, whilst still doing their important work during the crisis. In fact, because our members are usually so busy in their workplaces anyway, the move to online assessment has actually been of benefit to them. In addition, we ran, in partnership with higher education colleagues, online refresher programmes for retired scientist professionals wishing to return to the NHS to help fight the pandemic, so that they felt confident returning."
As their professional body, the Institute has also been supporting their members around Personal Protective Equipment (PPE) and working with the government on their testing approach.
Jill said: "We produced professional guidance for our members in terms of PPE expectations. Things like what they should expect to be given, where to find out what their local policies are, and what to do if there were failings in their PPE provision. We've been very busy with members coming to us for advice and I've noticed that there has been an increased focus on PPE queries.
"The Institute has also been part of a key stakeholder group, liaising with Professor John Newton – the government's Director of Health Improvement – about the government's approach to testing. We produced information differentiating between virus testing and antibody testing – primarily for our members to use, but also to help public understanding. We also commented on the importance of rapid test result turnaround which is key to the success of tracking, tracing and isolating those with the virus."
Standing out from the crowd
In her role as CEO of the Institute of Biomedical Science Jill draws on both her undergraduate degree in Pharmacy from Strathclyde University, and her Master's in Business Administration (MBA) from Henley Business School (Henley).
Jill tells CONNECTED why her MBA has been so important throughout her career:
"I was enjoying my current management job, but knew that an MBA would differentiate me from other candidates when it came to progressing my career. I chose to study at Henley because I wanted a programme with a really good reputation – one that would provide valuable learnings to me, and would also be valued by my peers. I also loved the fact that I could study this MBA part-time, alongside my job.
"The MBA has definitely helped me in my career, in terms of skills, knowledge and contacts. I was exposed to things I had never come across before, which I hadn't expected to get out of the course – for example, it improved my financial knowledge greatly. I also learned about broad strategic thinking and gained an international perspective, including an exceptionally valuable work placement in Russia.
"Henley was also a fantastic place to network with people – many of whom are still part of my professional network today – and I'm grateful for all the friends I met on this course. The whole experience of my MBA was just perfect and I would highly recommend it."
Raising awareness
Jill is motivated by doing a job that is value-based – she is proud to support such an admirable profession and she hopes to raise awareness of biomedical scientists around the world.
She said: "The people I work for and support do an invaluable job. The COVID-19 crisis has let the genie out of the bottle in terms of biomedical science – it has raised awareness of the crucial role they are playing in testing and vaccine development. I'm not saying they are frontline staff – but without what we do, patients and those on the frontline would be facing a much tougher situation.
"Behind every sample there is always a patient – we've never felt that more acutely than we do now. I'm proud of the care and attention that our lab staff are paying to every single sample they handle – their expertise is going to make a difference to individuals, communities, and countries.
"I know that our members are working long hours, facing multiple frustrations, and sometimes feel ready to cry at the end of the day. But I also know that every biomedical scientist is proud of the job they do, and the Institute is proud to support them. I hope the role our biomedical scientists are playing in defeating this virus will not be forgotten."
Discover more about the roles our alumni are playing in the effort to beat COVID-19.