Reading graduate, Heather Shute, is a volunteer with the charity Medical Detection Dogs. She tells CONNECTED about their incredible work – training dogs to identify people who are carrying COVID-19.
The dairy business has been in Heather's family for generations, and she decided to follow in the family footsteps by studying a dairying degree at Reading in 1962. Heather loved her time at Reading and her career that followed, but found her true passion came to the fore in her retirement – being helpful through volunteering.
Heather currently volunteers with Medical Detection Dogs (MDD), a charity that trains dogs to detect diseases or assist people with life-threatening health conditions, and who are currently training dogs to detect COVID-19.
A passion for volunteering
When Heather's friend – Claire Guest – founded MDD, Heather strongly admired her vision and the impact she hoped to achieve on global health; so much so, that she had no choice but to support the charity.
Heather said: "Claire's friend had a mole on her leg, which her dog kept fussing over – it turned out to be a malignant melanoma – and there the idea for MDD was born. I was so inspired by what these dogs could achieve, that I simply had to support them in any way I could.
"The charity carries out ground-breaking research to improve early diagnosis of cancer and other diseases such as Parkinson's and malaria through our Bio Detection Dogs.
"For example, our dogs are currently helping to detect prostate cancer. The PSA test for prostate cancer – which measures the level of prostate-specific antigen [PSA] in your blood – is extremely unreliable, giving 75% of false positives, whereas trained dogs can sniff urine samples for prostate cancer with over 90% accuracy. This is proven, written-up scientific research and we currently have two dogs working in a hospital in Italy, sniffing prostate cancer samples. We're also working with scientists at the the Massachusetts Institute of Technology (MIT) and John Hopkins University in the USA to try and replicate what our dogs do with technology, which is a very exciting development.
"We also train Medical Alert Assistance Dogs who support people with life-threatening health conditions. For example, dogs can warn diabetics when their blood sugar levels are too low [hypoglycaemic] requiring glucose, or too high [hyperglycaemic] requiring insulin, or they can smell a room for nuts for people with airborne nut allergies."
Heather organises the Oxfordshire and Cotswold Regional Group, raising awareness and fundraising for MDD's innovative work which is all funded by donations. In the Queen's 2015 birthday honours, Heather was awarded the British Empire Medal for her charity work.
She said: "I've done hundreds of presentations with my dog, Edward, over the years, and have also abseiled off a cliff in the peak district for my 70th birthday; done a 5k mud run for my 72nd; run the Chadlington Brook Run in 2016; and a zip wire in Wales in 2020. I'm quite proud of all the things I've achieved in the name of fundraising!"
The power of a dog's nose
MDD hopes that they can replicate this incredible work in identifying diseases, to help in the fight against COVID-19. Heather tells CONNECTED that the charity has already begun training dogs to sniff out the virus.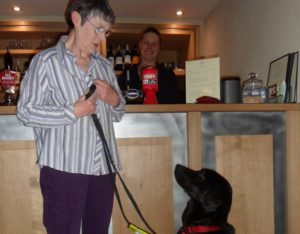 She said: "We're working with Durham University and the London School of Hygiene and Tropical Medicine [LSHTM] to train dogs to sniff COVID-19 samples. The LSHTM is collecting and providing the samples which we're training our dogs with and the government has provided £500,000 funding to the LSHTM to support our work.
"We are currently running a proof of concept trial with six of our most experienced dogs. The dogs are being trained with deactivated virus samples from nylon sock sweat samples. For this trial, the socks were frozen for transport, then cut up in little bits and put in different pots on a carousel; the trainers know which sample is from an infected person and can reward the dog when they diagnose the right samples. Dogs will simply stare at a sample they identify to be positive.
"Once this trial proves the dogs can statistically find the infected samples, the next stage is the double blind trial where nobody knows which are the infected samples. Once we've published the statistical proof from the double blind trial we'll extend the training to lots more dogs.
"We're doing this faster than we've ever done anything before, and people all around the world are asking how we train our dogs as they would like to replicate our work.
"Our aim is to franchise the training to commercial companies which already provide other kinds of sniffer dogs. Hopefully by franchising out our training methods, we will soon see dogs sniffing individuals for COVID-19, for example at airports. Dogs will sniff people without any physical contact and if they indicate a positive result, that person will be sent for an NHS test to confirm. Heathrow airport have already expressed their interest which is wonderful."
Pulling together to fight the virus
Heather explains her passion for volunteering, and how proud she is to be involved in something so worthwhile during the pandemic.
She said: "Being involved in MDD is just amazing. I need to be helpful. There's a kind of tradition in our family to have a social conscience and look for something worthy to volunteer for. When I retired I was volunteering for six or seven charities, but realised that it would be better to dedicate more of my time to fewer worthwhile causes.
"I was so proud when MDD offered their services to help in the fight against COVID-19. To be involved they've had to put other important projects on hold, and they didn't have a guaranteed pot of money to use.
"I just thought, everybody's got to do what they can to help, so we all pulled together on this.
"Dogs have 350 million receptors in the back of their noses, whereas humans have only five million. A dog's nose truly is a powerful thing and I believe we should harness it in the fight against the pandemic."