As our finalists prepare to embark on their journeys beyond university, CONNECTED shares what two of our inspirational alumni have achieved since graduating from Reading.
With graduation ceremonies unfortunately postponed due to the COVID-19 pandemic, the University of Reading is hosting virtual finalists' celebrations instead. We look forward to welcoming all new finalists into our alumni community, and hope that these two alumni stories will inspire them to strive to achieve their own dreams, whatever they choose to go on to do.
The art of storytelling
Reading alumna and award-winning book cover designer, Coralie Bickford-Smith, talks to CONNECTED about her enduring love of books, beauty, art and her unwavering commitment to following her passions since leaving Reading.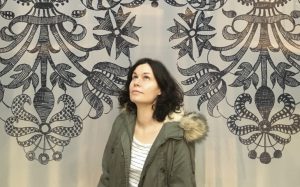 You're unlikely to see Coralie sitting on the tube with her nose in an eReader. Her love of the printed book began at a young age and her cover designs for Penguin Random House celebrate the book as an object of beauty. The detailed and dreamlike style of her artwork evokes magic, mystery and the natural world.
 After graduating from the Department of Typography, the allure of life in the capital was strong, and Coralie accepted her first role as an illustrator at Quadrille Publishing in London. After a year working there, followed by some time working at an agency and as a freelancer, Coralie applied to her dream job as a book cover designer at Penguin, where she has remained ever since. It's a role that suits her perfectly, allowing her to indulge an approach where she can work on several creative briefs simultaneously – an ability that she credits to her time studying at Reading.
Coralie said:
"I love books and I love book cover design. I like having lots of different little projects on the go, it allows me to play with ideas."
At Penguin, Coralie particularly loves working on the classic texts. The work she did on their beautiful, hardcover Clothbound Classics editions attracted worldwide attention and harks back to a golden age of book binding.
Coralie relishes the freedom she is given at Penguin who have never tried to stifle her creativity. She said:
"I firmly believe that as a designer you should do what makes your heart sing."
 In more recent years, Coralie has also turned her hand to writing. Her first book, The Fox and the Star, a modern fable that deals with loss, friendship and courage, was published by Penguin in August 2015 and won Waterstones 'Book of the Year'. Her second, The Worm and The Bird, followed soon after and her third book, The Song of the Tree has recently been published. She doesn't like to write for a particular age bracket and the nuanced language in her beautifully illustrated books appeals to children and adults alike.
Unsurprisingly, she is a firm and passionate believer in the enduring power of the printed word.
Coralie said: "People have been asking whether print is dead ever since I started working in publishing. Books will always endure; they are physical objects of beauty and contain history within their pages. The notes and memorabilia other people have left inside, the folded corners of pages, the evocative smell of the ink…"
Turning her thoughts to today's creative graduates, Coralie admits that leaving university can be a tricky transition. It can be hard to venture out into the real world and leave a supportive community behind, and she is a big advocate for staying in contact with course mates and friends. Coralie also acknowledges the challenge of forging an artistic career when so many of your own emotions are caught up in your work.
Her advice is simple:
"Believe in yourself. Follow your dreams and eventually somebody somewhere will see your work and champion it. Never give up!"
Find out more about Coralie's work.
From opera to botany
While Coralie achieved her dream career after graduating from Reading, GRAMMY Award nominated artist, Susan Gritton, was already a successful operatic singer when she joined Reading to pursue her interests in botany. Susan talks to CONNECTED about how her interlude at Reading enabled her to rediscover the reverie of her musical roots, and how she learned to combine her two passions.
Susan said: "I come from a very musical family so singing and playing instruments was like eating and breathing to me when I was younger. Music was just something I did and through school and university I was going to be a botanist.
"It was only when I joined Glyndebourne, which was a chorus renowned for being full of young singers who went on to have a career in music, that I realised I was going to have to give singing a go for a few years and get back to the botany."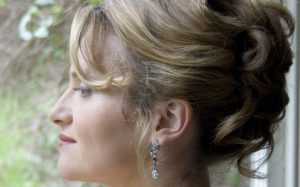 Susan – whose enduring spell in the spotlight has hit all the right notes since she won the prestigious Kathleen Ferrier Award in 1994 – is spoilt for choice when it comes to selecting career highlights, from Munich, where she sang with the Bavarian State Opera for more than a decade, to delighting audiences Down Under at Sydney Opera House.
Susan said: "One highlight which is particularly significant to me was singing Janáček's The Cunning Little Vixen at English National Opera. That was the piece of music that inspired me to want to become a singer."
While the 'comma' in Susan's scientific career ultimately spanned decades rather than years, she insists returning to science was always in her plans, and that doing so at Reading studying a master's in plant diversity was a pleasure and a life changer.
Susan said: "I don't think I'd ever really lost the intellectual rigour, which also comes with being a singer as you are constantly studying and reading behind subjects in order to really connect with a piece of music. My formative training in botany was there waiting to come alive.
"I put what had been a massive hobby back at the centre of my life, and the master's in plant diversity at Reading gave me the skills to turn this into professional training. I now enjoy working part-time as a botanical consultant for RSK Biocensus, in addition to my singing career, represented by Intermusica."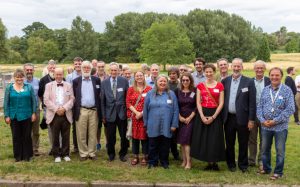 Susan thoroughly enjoyed her time studying botany at Reading and has remained involved ever since.
Susan said: "Last year, I sat on the Reading Botany Committee and helped organise and run the whole year's events as a volunteer, including the Reading botany alumni reunion where we welcomed over 150 alumni. I felt very privileged to be part of this event, which was attended by a number of internationally renowned botanists."
The operatic soprano diligently focused on exercising green fingers and grey matter as a student, but she was quickly coaxed into the rows of the University's Chamber Choir. Susan's singing interlude came around the death of her sister, and Reading enabled her to reconnect with the joy and sheer fun of singing in a choir.
Susan said: "I was very lucky that most of the students didn't know who I was and, although the conductor immediately did, I was able to sing as an amateur – to sing simply for the love of singing.
"One of the amazing things about music at Reading, particularly its choirs and orchestras, is that you get high-ranking professors standing next to first-year undergraduates. It is totally levelling – there is no hierarchy and you are all in it together.
"Being part of a choir was my beginning in music, where the roots of my singing career were, and I can't thank the Chamber Choir enough for allowing me to be part of such a wonderful thing."
Since graduating from Reading, Susan has been determined to bring harmony to her two passions.
"I'm madly going to try and do it all!" Susan concluded. "They are both so important to me. Music is an amazing art form and has the power to lift people from difficult places, and it is also a very exciting time to be working as a botanist. Plants are central to the solutions for the twenty-first century and people really need to engage and understand the importance of biodiversity and vegetation around them.
"I feel privileged to be a part of Music at Reading and to have studied my master's at the University, because it has provided me with a range of skills to enable me to gain employment as a professional botanist, and join the company of many distinguished botanists known internationally as the Reading Mafiosi."
When asked what words of advice she would like to share with current graduates, Susan responds immediately that people should never be afraid to follow their passions.
Susan continues: "If you enjoy what you do, whether it is your job or hobby, you will be acquiring skills and experience that may come in useful later on in life – and that includes volunteering.
"Incrementally, everything counts in some way and builds confidence and skills as well as fun. During this pandemic, the performing arts have been stifled and we face a very uncertain future. So to all you aspiring performers out there – keep the faith, keep up the practice, broaden your skills base and believe in yourself!"
Find out more about Reading's virtual celebrations for this year's finalists.